Hitec RCD AEE MD10 Action Camera – REVIEW with videos!
These days, action cameras are essentially a dime a dozen. The category "action camera" used to only encompass a few specific models (GoPro, and… um… GoPro) but now that category has broadened to include a variety of new products from a variety of manufacturers. Some of the companies getting into the action camera segment are already recognizable by us RC nuts. Names like Hitec, for example. Hitec and AEE have teamed up to bring us a new line of action cameras. The one we are looking at here is the HiTec AEE MD10 Action Camera. I put this camera to the ultimate Big Squid RC test, so read on below to find out how well it stood up to our beatdown!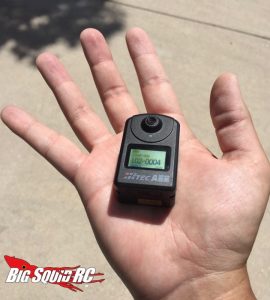 From: Hitec RCD
Direct Link: MD10 Action Cam
Review By: Joe D.
Pictures By: Joe D.
Flying By: Joe D.
Pricing: The MD10 comes in essentially two different flavors. The camera only retails for $159.99, while the "full package" (reviewed here) comes in at $209.99. The latter includes a ton of different accessories including various mounting brackets and hardware as well as cables and a shockproof, water-resistant case.
Specs:
1080p30 / 720p60 WVGA 120fps
8 Megapixel Shooting
180° Image Flip Feature
8 MP / 8fps Burst
Intelligent Voice Control
4X Digital Zoom while Recording
Wi-Fi Connection with 328 ft. Range
IP-68 Waterproof Housing with 20 meters Diving Depth (Included in Full Package Only)
Video – About 210 Min. (Max.
Audio – About 240 Min. (Max.)
Dimensions: 1.34 x 1.10 x 2.05 in.
Weight: 1.76 oz.
Primary Competition: Suddenly, there are a TON of action cameras available to purchase. Everything from the high-dollar GoPro to the budget-minded Xiaomi Yi come to mind, with the Hitec MD10 falling right in the middle of the pack as far as pricing and features.
Ease of Use: This is where the MD10 shines. You could easily say that a camera is a camera as long as it can shoot in HD (this one does 1080p at 30fps and 720p at 60fps… more on that later). But what sets the MD10 apart as a winner is the ease of use. The camera comes with instructions on how to download the AEE companion app. Basically what this app does is give you full control over the camera via your wi-fi equipped smart phone. As you can see in the images below, the app allows control of all camera settings including resolution, lens angle, burst shot, prompt tone, loop video and more. While you can control all of these settings from the sparse few buttons on the camera itself, it is MUCH easier to do so via the app. Especially when the camera is already mounted and ensconced in its shockproof casing. In addition to the control features of the app, probably the best part of it is the preview option. By selecting this in the app, you are afforded a full preview of what the camera is seeing in (almost) real time. Not only does this give you a glimpse at what your recording will look like, but it also can be used to provide a second FPV screen for your buddies! I wouldn't recommend flying/driving using the preview though, as there is some substantial latency involved.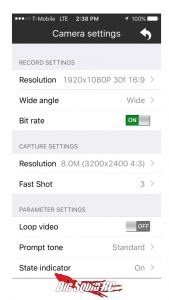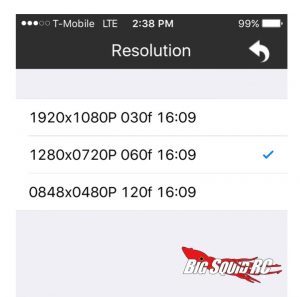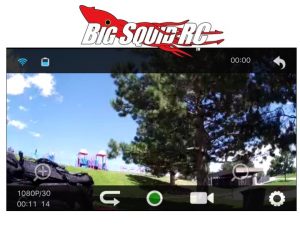 Footage Quality: The MD10 sports three different resolution settings. 1920x1080p at 30 frames per second, 1280x710p at 60fps and a low-res 848x480p at 120fps. I tested all 3 of these thoroughly, focusing mainly on the two HD options. If you check out the videos below, you will see the two modes in head-to-head action. In my personal opinion, the best setting for us RC folks is going to be the 720p at 60fps. I'm no expert but from what I can see, the image quality is much better on this setting. It appears less muddy, colors are more vivid and there is far less image fragmenting. This could possibly be thanks in part to the higher frame rate of 60fps. Bottom line, the MD10 will produce very high quality footage suitable for 99% of hobbyists out there but is not quite as high quality as the newer GoPro models. This is to be expected at the given price point. For right around two hundred bucks, though, you are getting the best camera out there.
Make sure to click through so you can watch full screen in HD!
720p @60fps below.

1080p @30fps below.

Durability: Given the small stature of the MD10 (meaning it is also very light) and the included case, this camera can take a beating. Having mounted this camera on my Lumenier QAV210 racing quadcopter for testing purposes, I obviously had a few nasty crashes. Aside from a few scratches on the case, the camera is no worse for wear. I even had the camera pop out of the case mid-flight and hit the sidewalk (my fault, as I did not secure the hinge properly) and it was fine. High marks for durability here.
Misc. Notes:
At first, the form factor was a concern for me give that the camera would be mounted on the top plate of my racing quad. However, after using it for weeks, I realized that it is light enough to not be a concern sticking up off the top of my drone like it does.
I had one instance where I hit record, took off and flew for about 5 minutes and when I landed, the camera had shut itself off. Fortunately, 90% of the flight was still captured and I believe the issue was actually a failsafe because the cam got too hot.
The adhesive pads that come with the camera package are incredibly permanent. I ended up using servo tape and velcro as insurance instead so that I didn't end up with a permanent adhesive pad stuck to the nice carbo fiber of my quad.
Final Verdict: A! The Hitec MD10 performed exactly as advertised. The camera is incredibly durable and creates some beautiful footage when set up properly. The kicker here is the companion app. Having full control of the camera on your smartphone is a feature that all of these cameras should have and the added bonus of a preview window that can be used as a second FPV screen is icing on the cake!
The Hitec AEE MD10 Action Camera is available now from a variety of retailers. Want more action camera news from Big Squid RC? Click here. How about some more Big Squid RC FPV news and reviews? Right here!