Hobby People Warehouse Sale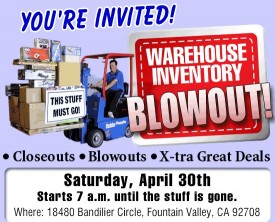 Since the subject of sales seems to have been a popular subject this week, I suppose it's appropriate to fill you in on one that's coming up.  Traditional and Online retailer, Hobby People, is holding a "Warehouse Inventory Blowout" sale this Saturday, April 30th.  If you are in or near Fountain Valley, CA, where their warehouse is located, this might be a great chance to score some good deals on things you've been needing.  According to Hobby People, the sale will start at 7:00 a.m. and go until the sale items are gone.
Check out the Hobby People website for more info and here's a link to their location on Google Maps.