Hobby Town Convention Wrap Up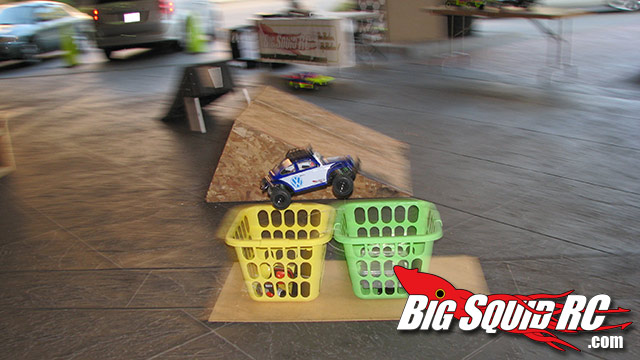 On our last night at the Hobby Town Convention 2012, many of the manufactures and dealers held some contests (HT Olympics) for the Hobby Town owners to participate in. Everyone had all sorts of different little contests, and the attendee's could win various prizes.
Our event involved taking the new VW Bug from Duratrax, launching it into the air, and trying to land in one of two bins. There was easily over 100 attempts, and at the end of the day, many were surprised the Duratrax Bug was able to drive away after the pounding it took. We told them to check our review.
We gave away all sorts of stuff like hats, shirts, stress squids. Tons of people came outside to partake in the activities including a few HPI folks as you can see. It was another great way to mingle with everyone, and get to know the shop owners.
Also during the Olympic evening, we were putting on a demo outside for people to enjoy while grabbing food from one of the buffet's or waiting to try their hand at our event. Our resident uber driver, Tim Mohr, was wowing the crowd with big air, and awesome transition landing from ramp to ramp.
Overall, the Hobby Town Convention was great. It is run like no other show/convention I have ever attended. The organizers have everything under control at all times, and if something needs to be fixed or taken care of, it's done quickly. I was in awe over the organization, and have to send a 'Great Job Guys!' to everyone at Hobby town, and 'Thank You' for letting us partake in their well oiled machine.
The show attendees were always positive and friendly. While most of them have 'heard of Big Squid RC', a lot of them now understand what we are about, and what makes us different. We met so many people, and were able to thank them for their support of our hobby. We made a lot of new friends out there, as well as had a chance to chat with a lot of our industry friends, when we normally don't get to see them till iHobby in October. The convention really drove home the sort of support Hobby Town can offer to hobby shops, and what makes them different and special. We have a little more understanding on why we have been seeing some shops change over to being 'Hobby Town' shops, and what being part of that bigger family can give you.
Hope to see you all next year in 2013!
Check out all of our Hobby Town Convention 2012 HERE.