Hobby Town – Naperville: Rock Crawler Event Pictures!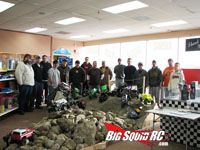 What a great event today! I was out at the Hobby Town USA (Naperville) Rock Crawling event today. Mike, Jeff, Zak, and others did a awesome job of getting the track built and the event organized. The turnout was bigger then expected which always helps. Below are a bunch of pictures I snapped during the event. I took some video as well, and hope to have one up in the future. We had a few Big Squid RC fans out there also! Glad you could all make it out. It was nice to meet so many new people as well as a few I have only talked with in the forums! Hope to see you all again very soon.
Click here to see a ton more!