HobbyKing Turnigy Nano-Tech 2S 65C 6000 Mah Hard Case Lipo Battery Review
The HobbyKing Turnigy Nano-Tech 2S 65C 6000 Mah Hard Case Lipo Battery Review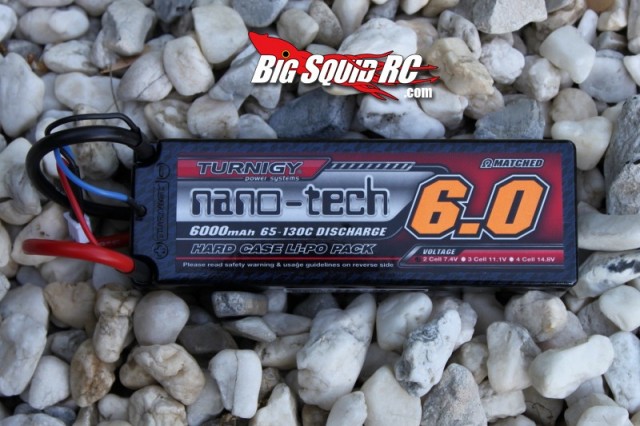 It seems there are a lot of you guys out there wanting to see us review one of the higher "C" Turnigy Nano packs, so here you go. Do they put a crushing on the discharger? Do they vault your truck well past the landing area of every jump? Do they straight up blow the tires off your rims? Read on to find out…

From: HobbyKing
Direct Link: Turnigy Nano-Tech 7.4v 65C 6000
Review By: Cubby
Pics By: Cubby
Specs- –
Battery Type: Lithium Polymer
Stated Capacity: 6000 mah
Cell Configuration: 2S2P
Voltage- 7.4v (max voltage 8.4, min voltage 6.0)
Discharge- 65C constant/130C burst (390 amps/780 amps)
Weight (measured by BSRC, battery including Traxxas connector)- 320 grams
Dimensions (measured by BSRC)- 138x47x25mm
Balance Plug Type- JST
Stock Connector- None
Max Charge Rate- 10C/60 amps
Street Price: $41
What's In The Box: Our test sample came with everything needed except for a connector. The box included the battery pack, wires, and a nifty chrome Turnigy badge/sticker. We soldered up a Traxxas connector and hit the track.
Build Quality: Build quality looked good except for the 4mm bullets on the primary wires, those seemed a bit looser than expected.
Test Platforms: ECX Torment (with Viper brushless system), Losi Ten SCTE (with Castle brushless), Helion Dominus 10SC (with Castle brushless system), Axial EXO Terra Buggy (with Castle brushless system).
Test Drivers: Cubby, Brian, Iron Mike
Test Venues: Leisure Hours in Joliet Illinois, RC Outlaws in Collinsville Illinois, St Louis Missouri Dirtburners, Costco parking lot
Driving Impressions: Popping the Turnigy Nano into any given truck and pulling trigger always lead to plenty of wheel pop'n power, but how did it feel compared to other packs?
Compared to one of the junk RTR Ni-mh packs we had laying around the Turnigy 65C Nano made our truck feel like a rocketship. The Turnigy generated much greater power across the board, turning a lame/tame Ni-mh powered truck into a wheely pop'n, tire smoke'n beast.
Next comparison was the Turnigy 65C 6000 against the Turnigy 30C 5800 we used in our last Lipo shootout. On track the 65C was noticeably faster, not a huge difference, but enough to be immediately noticeable. The difference in power was most easily felt when pounding the gas coming out of corners, but could be felt to a lesser extent across the entire powerband.
When comparing the Turnigy 65C to the winner of our last Lipo shootout, the Gens Ace 2S 45C 5800, the Turnigy felt somewhat softer. The Turnigy had less pull when cranking out of corners, less launch up steep jump faces, and less top end on long straights. The difference wasn't huge, but was enough to be felt.
The Turnigy always gave us more than enough power to make every jump combo on every track, and more than enough power for massive roost and wheelies. However, the Turnigy wasn't the fastest 2S ROAR sized Lipo we've ever driven. If you run mod/brushless that isn't such a big deal as you can gear up or increase timing for more yank, but if you run stock class motors you might want to consider another pack with more rip.
About The Graphs: We used a West Mountain CBA discharger to performed a 1C/6 amp discharge to test capacity. Next we did a 30 amp discharge, then a 6C/36 amp discharge, and finally a 60 amp continuous discharge to see how well the Turnigy held its voltage under a continuous load. The higher a battery can hold its voltage, the faster your car/truck will be. Ambient temps for all bench tests was 70 F, the pack was charged on a Hyperion 720iNet3 at 1C/6 amps for all bench and driving tests. Voltage cut-off was always set at 3.0 volts per cell, both on the bench and during in truck testing.
So how did the Turnigy stack up on the test bench? Tested capacity came out a bit higher than we'd liked to have seen. At 1C the Nano tested out at nearly 6200 mah, almost 200 mah higher than stated. If this is a QC issue that means the next pack on the assembly line might very well only put out 5800. Plus or minus 200 mah isn't horrible at 6000 mah, but we'd like to have seen it under 100.
The Turnigy 65C Nano put out more voltage than its smaller 30C 5800 sibling we just tested for our Lipo Shootout #4 at both 30 and 60 amps. The difference wasn't huge, roughly a tenth of a volt across the curve, but that's enough to be felt on the track. We also compared the Turnigy Nano 65C 6000 against the Gens Ace 45C 5800. The Turnigy 65C was down on voltage across the entire curve compared to the Gens Ace 45C.
Measured Temps:
1C – 79 F
30 amp – 94 F
6C – 98 F
60 amp – 101 F
Measure Capacities:
1C – 6188 mah
30 amp – 6170 mah
6C – 6126 mah
60 amp – 6010 mah
Measure Run Times:
1C – 61.7 minutes
30 amp – 12.4 minutes
6C – 10.2 minutes
60 amp – 6.02 minutes
---
As with all of our stuff, if you see us at a bash, stop by and check out the vehicles we have with us. We may let you take a test drive, and at the very least get you some stickers!
SUMMARY
Time To Bash – 9.0/10 -Soldering on a connector only takes a few minutes and the max charge rate of 10C will put you on track in no time.
Car Show Rating – 8.0/10 – Quality looking sticker on the case, some of our staffers liked the looks of the faux blue carbon case, others did not.
Bash-A-Bility – 10/10 – We blasted it at 60 amps on the West Mountain CBA, we hucked it off the roof, and the Turnigy is still in perfect working order.
Fun Factor – 8.5/10 – Good power equals great fun.
Power- 8.5/10 – For a 2S ROAR sized pack the Turnigy 65C puts out good low end grunt as well as good rip on top.
Value- 9/10 – Good power at a cheap price make the Turnigy 65C a good value.
Big Squid Rating – 8.8/10 – Tentacles.. The Turnigy isn't the fastest battery you can buy, but it puts out good power at a very reasonable price.
Don't forget to check out the Baja Bug Unboxing photos if you need some more pictures. You can also check out our Evader Brushless Review Here.