Holy Axial Wraith Batman!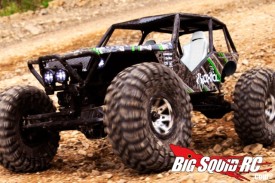 It looks like Axial Racing has finally got their website updated with some real information, pictures, and even a video of their until now secret Axial Wraith. No lie, watching the video gave me chills! I'm not sure what it is that has me so pumped up about this truck. Maybe the fact that it looks freakin' awesome! From the specs here, it looks like it will feature fully locked diffs, a lipo and CastleLink capable Axial AE-2 ESC, 20T brushed motor, a 2.4 GHz radio, and a waterproof receiver box (whoo hoo!). 6 LEDs are included on the truck, 2.2 Ripsaw tires, and it even comes with a dig-capable transmission!


Click the MORE to see the video after the break.



Head on over to the Axial Wraith page to check out all of the info! I'm almost too exited for this truck!