Hop-ups for the Anderson M5 Cross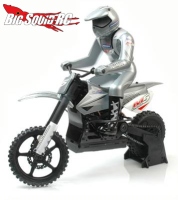 Schumacher Racing sends word today of some new hop-ups for you proud owners of the Anderson M5 Cross.  And for you people who were as confused as I was about who Anderson is and just what this M5 Cross thing is supposed to be, well it's Europe's version of the Duratrax MX450.
So now that I'm not confused anymore, on to the new hop-ups!
If you're needing more front-end responsiveness from your M5 Cross then you can easily put on the new lightweight shock shafts for the front forks.  If you're not a fan of wheelies that tear up your rear fender then you can add the new wheelie bar set to help support and protect it.  And finally, NEW TIRES… er…. TYRES!  They call them Chocolate Tyres, and they are geared toward high grip surfaces, offering less bite than other types of tyres.
For more info on these new hop-ups for a r/c motorcycle you may or may not have heard of check out Schumacher Racing's web site.