Horizon Hobby at 2014 HobbyTown USA Convention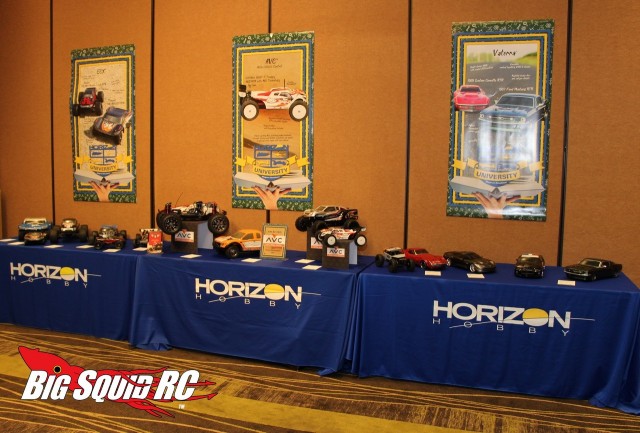 Horizon Hobby came out swinging with multiple new products in their room, but arguably their biggest news hadn't made it in time for the show. Horizon has just picked up the Parrot line of rc products, which were not on display but we are told should start shipping in September. If you are unfamiliar with Parrot, they are a big name rc company with some pretty wild products like These.
On the surface side of things, Horizon had their new 2014 Vaterra Corvette, the gasoline powered Losi LST XXL-2, and the Pro Boat Rockstar 48 on display. While the Rockstar 48 was announced months ago, it is getting ready to ship to dealers and we must say it looks awesome (and massive!) in person.
There was also plenty of big news on the air side, notably the showing of Fat Shark FPV products and a number of new aircraft. Fat Shark is new over at Horizon but have already proven themselves at local flying fields as some of the best FPV gear on the market.
For new aircraft there was plenty to look at. The Hobbyzone Sport Cub S was being shown and looked to be an idea plane for beginners. The Sport Cub comes with Horizon's SAFE technology and has a street price of $129 RTF. It even has a button to press if you get in trouble that will return it to level flight!
Hobbyzone also had a new F4U Corsair S. The F4U is a WWII combat airplane that is capable of very spirited flight, yet also comes with the SAFE stability system to save you (and the plane) should you get into trouble.
E-Flite had several new products and was showing off their new Adagio 280 BNF Basic, P-51D Mustang, and UMX Spacewalker RTF. We'll be posting more information about these soon and they will be headed to your local Horizon dealers in the coming weeks. Hit up This Link to head over to Horizon's official website for more information on all of the products they carry.
This concludes our HobbyTown Convention coverage, we would like to again thank the awesome folks over at HobbyTown USA for letting us join in the fun at their show, and Here is the Link you want to view our complete show coverage.