Hot Bodies C10 Rock Crawler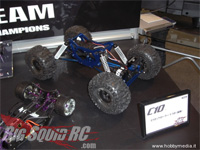 One last post for the day from our good Italian friends site Modellismo Hobby Media have been covering the big Japan Hobby show, so we are going to try and cross promote and bring you some of the news.
Hot Bodies is introducing the C10 RC Rock Crawler. It looks like this is a pic of the prototype version they were showing last week. Hard to tell from this pic if it has anything special to go up against the popular Axial products.