Hot Bodies D8 4mm Light Weight Main Chassis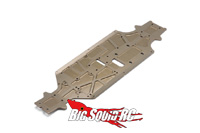 Hot Bodies is on a roll and listening to the crowd. D8 racers can now drop a little weight and gain those precious tenths of a second needed to secure a win with the new D8 Lightweight Chassis. Non critical areas have been milled and chassis integrity has been maintained so you can be assured your D8 will still have a stiff chassis.
Jump on over to Hot Bodies or your local shop and scope it out!