Hot Bodies D8 Flux Edition!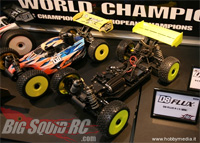 Our good Italian friends site Modellismo Hobby Media have been covering the big Japan Hobby show, so we are going to try and cross promote and bring you some of the news.
Now this is some exciting news! Hot Bodies is introducing a D8 Flux Edition! Basically a Electric Brushless D8! Take the winner of the IFMAR 2008 Worlds and make it electric. Seems like a good plan!