Hot Bodies – Lightning2 Pro-Evo!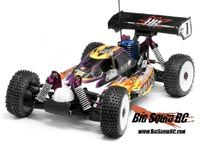 Let me start off by saying, the Lightning 2 Pro was one of the greatest buggies I ever owned. I abused that thing like so much, I can't even begin to explain.. and it just kept going! Good memories right there. So you can imagine I'm excited about the news of this new Hot Bodies version. It's got aluminum, carbon fiber, carbon steel, cv style drive shafts, and looks to be built for speed! It does not come with a engine or electronics. Fine with me if it keeps the price down, everyone has a favorite engine and radio anyway.
Check the New Product Forum for the full report.