Hot Racing Aluminum Option Parts for the Axial Yeti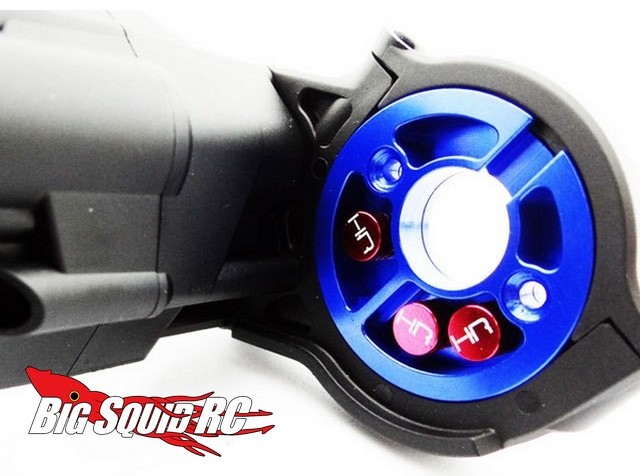 Is the Axial Yeti the new T-Maxx? It is selling like hotcakes (even to people not into the scale/crawling genre) and it has been getting tremendous love from the aftermarket.
Some of the latest aftermarket goodies for the Yeti come from Hot Racing. They have a bunch of new aluminum upgrade parts to make the Yeti even tougher while upping its bling factor.
First up is an aluminum transfer case. It has a part number of #YET38TC01 and is said to guard against torsion flex when using the two speed tranny.
Next up is an aluminum motor mount. It has a part number of #YET1806 and comes with "3 heat buttons" to help pull heat away from the motor.
Also available is a new aluminum center motor gear mount. This piece has beveled edges and is laser etched with the HR logo for a cool look. The part number is #YET38A01.
To help keep heat down in the slipper, HR has a new vented double hex slipper. This 6 star design has a polished aluminum look and a part number of #YET15H.
If you are looking to take some slop out of your Yeti's steering, Hot Racing has a pretty slick looking carbon fiber steering drag link. To help keep from stripping out wheels they also offer hardened aluminum wheels hubs. These allow you to bash even harder and have a part number of #YET10A06.
Check Out This Link for all the upgrades that Hot Racing offers for the Yeti.
Click Right Here for a very HOT TGIF Mystery Link.