How To – Adding Lights to the Carisma M40DT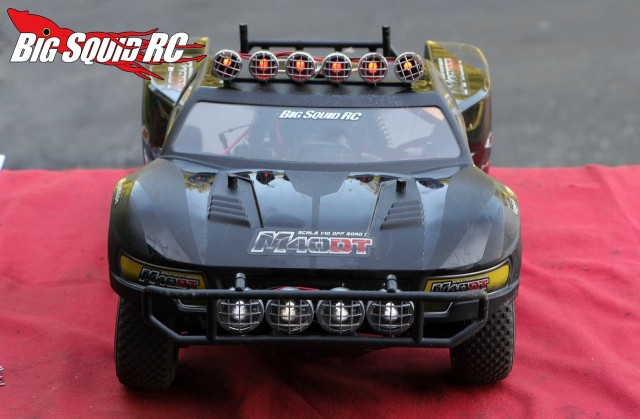 Since we reviewed the Carisma M40DT it has become one of our "go to" bash machines. Recently we were out driving the Carisma but ended up running out of daylight, needless to say that was an absolute bummer. Why should the fun stop at sundown?
The good folks over at Carisma make a nifty LED Light Kit made specifically for the M40DT that helps keep the fun going when the sun goes down. We installed the kit on our M40DT and took some notes & pictures to show how easy it is to put on your truck.
How To Install an LED Light Kit on the M40DT-
1. Get everything you'll need together. You will need the Carisma M40DT Light Kit (#15154, $25), some CA glue, and a body reamer (or drill) to make a hole in the body. A couple of zip-ties can also come in handy to tidy things up.
2. Make a hole in the top of the body so you can run the lights to the roof mounted light buckets that came on the body.
3.. Slide the LEDs into the light buckets on the roof. Add a tiny dab of CA glue to keep them from ever popping out.
4. Mount the control box for the LED light kit. There is a spot perfect for this just above the servo and the box even comes with double sided tape on its bottom to make this step extra easy.
5. Plug the wires that are coming out of the control box into the receiver. The M40DT also makes this step easy because it has a pigtail coming out of its receiver specifically for this purpose.
6. Grab a zip tie and tidy up the wire bundle coming out of the receiver. This helps keep the wires out of harm's way during hard bash sessions.
7. Slide the LEDs into the light buckets provided on the M40DT's front bumper. Once again use a tiny dab of CA to keep them from coming loose.
8. Plug the wire harness from the LED lights into the LED control box.
9. Hit the "on" switch on the LED control box and take a look at your job well done. It took us less than 10 minutes to do the install, and that included the time spent taking notes and pictures. The kit uses 6 amber lights for the roof, 4 for the front bumper, and we found they did a decent job of lighting up the night for some after hours bashing.
You've just read what it takes to mount an LED light kit on the Carisma M40DT, check out This Link for more "how-to" articles right here on BigSquidRC.