How To – Installing a Pro-Line Body Mount Thumbwasher Kit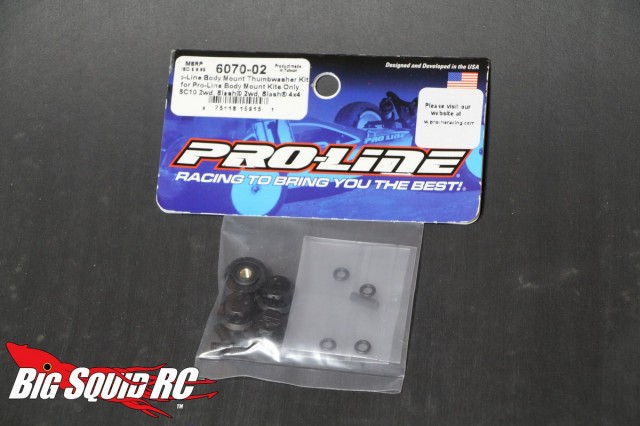 When Pro-Line first introduced their extended body mounts that used Thumbwashers instead of body clips we were instantly in love. You see the BigSquidRC Bash Crew loses literally thousands of body clips each year and we are sick and tired of buying more.
Pro-Line Thumbwashers (part number #6070-02, $5) are superior to regular body clips in a couple of ways-
1. They don't fall off.
2. They have more surface area resulting in fewer bodies ripping out around the body mounts.
We've mounted up Pro-Line Thumbwashers to dozens of trucks around the BigSquidRC Bash Compound and today we'll walk you through how to do it yourself. I promise it's super easy and worth the 5 minutes of work.
First off you'll need to make sure your vehicle is suitable for the conversion. There are a few things to check to make sure the Thumbwashers will mount up without any issues.
1. The body mounts on your rig need to be fairly level. Thumbwashers aren't intended for installs on severe angles like the back glass of a touring car.
2. Make sure you have 10mm depth in your body post to insert the Thumbwasher screw. Some body posts have body clips or screws running through them to raise the body from below. These clips/screws might not allow the Thumbwasher screw to go deep enough into the body post.
3. 8th scale buggies need their bodies to "float" on the body mounts because they have so much chassis flex. Thumbwashers need to be tightened down firmly to keep them from working loose, thus making them unsuitable for 8th scale buggy applications (at least in the rear).
Assuming your vehicle is a good candidate (most are) here are the 5 simple steps needed for a proper install. We used an ECX Torment for the pictures.
1. Carefully use a Dremel, hobby knife, or side cutters to remove just the tip of the old body mount. You only want to remove the portion that sticks up through the body, nothing more, nothing less.
2. Drill a hole 10mm deep into the remaining body post. The supplied screws are 20mm long, you'll want half of them to screw into the body post. Make sure the hole is tight enough that the Thumbwasher mounting screw won't work loose, but not so tight that inserting the screw will break the plastic.
3. Use a 2.0mm hex driver to insert the screw.
4. Slide the provided o-rings over the screws.
5. Put on the body and firmly tighten down the Thumbscrews. You're finished!
Your days of coming back from a bash session missing a body clip are now officially over. Seriously, the Pro-Line Thumbwashers are the best thing since sliced bread and arguable the best $5 you can spend on your rc car. For more information on the Pro-Line Thumbwashers simply click HERE.
For more Pro-Lines news right here on BigSquidRC check out THIS LINK.