HPI Blitz Short Course Truck!!!
Well, everyone was expecting it, but I didn't think it would come out of the blue like this! HPI Racing has just announced the Blitz Short Course Truck! It looks like it will have a fall release! It's running officially licensed Maxxis Trepador Comp Off-Road Tires, with a Maxxis ATTK-10 Body for c sweet scaled look.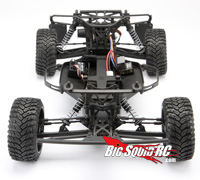 The chassis is based on the E-Firestorm platform, has fully tunable multiple shock angles, camber and tow, and anti-squat. Baja 5T style skid plates, threaded shock bodies, ALL METAL gear transmission, 15T Firebolt motor, full ball bearing set and captured hinge pins.
Look for the HPI Blitz to start shipping early fall!
Sign me up!