THE HPI Bullet Monster Truck Flux Review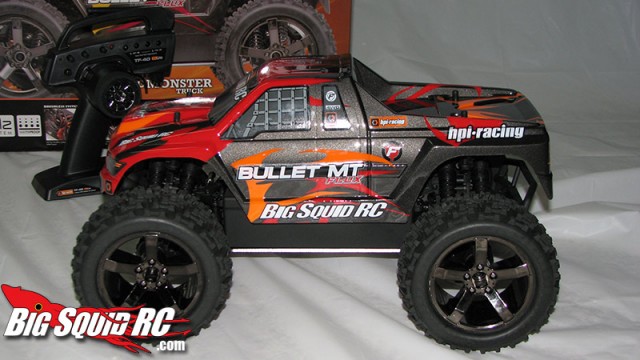 What seems like a long time ago, HPI announced the Bullet MT Flux in Europe, and it finally made it's way to the USA. From the first announcement we were interested due to it's size and power. While bigger is always better, sometimes you just don't want to drive a huge truck like the Savage Flux, and something smaller is what you are looking for. Was the Bullet what we were looking for? Keep reading to find out..
From: HPI Racing
Direct Link: HPI Bullet MT Flux
Specs- –
RTR or Kit: RTR
2wd or 4wd: 4wd
Electric or Gas: Electric
Scale: 1/10th
Length: 417mm (16.4″) Width: 336mm (13.2″) Wheelbase: 272mm (10.7″)
Motor: Flux Shot Brushless (Castle Creations)
Speed Controller:Flux Reload v2 (Castle Creations)
Radio: HPI 2.4GHz
Bearings: Full set (rubber sealed)
Battery: Not included (can do 2s or 3s)
Waterproof: Waterproof steering servo,radio box, esc, and battery box
Street Price: $345
Primary Competition: Traxxas E-Maxx, Traxxas 4×4 Stampede.
What's In The Box: The Bullet MT Flux comes RTR with everything you need to get going except for a battery.
Build Quality: Out of the box, the build quality was good all around. Nothing seemed stripped, everything was working, and all I needed to do was insert the battery and go.
Test Drivers: Cubby, Brian, Bill (aka Wrench), and Manny
Test Venues: Leisure Hours Raceway in Joliet Illinois, Street, Skate Park, Parking Lot, dirt and gravel hills, grass and fields.
Check out the huge air we were getting! That quarter pipe shot was way higher than I wanted to go which caused me to jump up and over the back landing flat to pavement. I also couldn't see the landing.. surprisingly enough it was on it's wheels.

Jumping: The truck jumps great. It flys nice and straight, and was easy to control in the air. It has more than enough power to let you back flip and front flip like a pro. We have been beating on this truck for a while in all sorts of locations, and any jumps we took on were conquered with ease. We were pleasantly surprised at what we could do at the skate park. Landings at all angles were easy to nail, and as you can see from this pictures the huge air wasn't a problem. There are a few shots here easily 20 feet up where we were landing on pavement and driving away! On one awkward landing we ended up popping off a tie-rod, and that was a slippery slope. Once the ball cup was loosened we were popping it off on many landings. The giant sky landing may of been what blew the front shock.
Bumps/Whoops: The 8 shocks did a great job of absorbing all the jumps, bumps, dips and whoops. We were running smooth on any surface we could find.
Turning: Turning was ok with the truck. It could probably use a slightly stronger steering servo to move those big wheels around when you get into the rough stuff. Like most monster trucks it wasn't difficult to traction roll, so you'll need to watch your speed in the corners.
On-Road: While running on the street and parking lots, the truck could really show it's power! On 2S we clocked in at 34mph, and on 3S it was 45+!!! This is an insane speed for a $345 vehicle.
Tires: The tires have held up well. Running on all sorts of surfaces they have shown minimal wear and tear.
Power: There is plenty of power in this truck! Even on 2S you can have a blast, pop wheelies and master the back flips off the jumps. If you are new to monster trucks, and looking for a 1/10th scale, sticking with 2S will keep you more than happy while you learn how to handle the ride. Most people would not even need to run this truck on 3S.
Broken Parts: Well, this is where we had some issues. Early on in the testing we hit a curb and broke a front hub carrier. Normally not a big deal, except we couldn't get a replacement part. Since the truck had just started shipping, of course most hobby shops wouldn't have the parts, the problem was we couldn't get the parts from HPI either. If the truck was truly brand new, we would cut them a little slack, but it's been available for months in Europe. There was no reason the parts should not of been available by ordering them from HPI or a bigger distributor like Tower Hobbies. After a few weeks, we decided to post our issue about the parts, and we actually had people from overseas volunteer to send us the parts since they were available there in their hobby shops! We declined.. I mean it couldn't take that much longer right? Well, beginning to end we waited over 2 months for the parts! If a newbie to the hobby would of bought this truck, busted it on day one, and then had to put it on the shelf for 2 months, all the while the truck taunting him because he couldn't enjoy his new found hobby, that person probably would of sold it and bailed on the hobby all together. Not shipping parts for a week or 2, is annoying, but maybe acceptable, but 2 months. Completely inexcusable. That being said, the parts are NOW available at HPI and most big distributors. So you don't need to worry if you are going to pick up the truck.
At some point we did blow out a shock.. but when your landing 20+ feet to pavement multiple times, it wasn't a big surprise, but instead of popping a shock cap, we popped off the bottom. Rarely do we see that.
The only other parts that have taken damage are the body and the speed controller fan. It seems like HPI bodies have always been on the 'thin' side and rip up or get crushed pretty quickly, and this was no exception. After a few upside down slides, we had large wholes in the roof, and one hard roof landing crushed in the top destroying the fan on the ESC.
Misc Notes:
When we broke the front hub carrier, we found out the hard way that HPI uses these little tiny square steering nuts to hold the screw in place. We are NOT fans of this design. First we lost one when we broke the hub carrier, and second you don't just have these laying around in your pit box. A small regular nut would of been much more preferred and easier to deal with. Hopefully there are some aluminum carriers on the way from someone as we have seen it looks like the HPI WR8 and Ken Block vehicles also use this same carrier!
As you can see from the pictures, the battery box is one of the worst to deal with. Someone somewhere decided the Mini Trophy Truck and Apache batteries were not difficult enough to replace, and they need to make a box that uses 6 body pins to hold it closed. Yes that's 5 more body pins than MOST other RC vehicles on the planet! Sure the box keeps the dirt and water out, but we are pretty confident this could of been done with 1 or 2 pins. To make it worse, the way the system is set up, the battery plug connects INSIDE this box. So every time you want to connect or disconnect your battery, you had 6 pins to deal with. It only took doing this twice before I unscrewed the top of the box where the wires run though, and ran my battery wires out so I could at least unplug and plug it in when I wanted.
The parts delay did suck, and we hope the folks at HPI listened and learned because if that keeps happening with their new releases people will stop buying vehicles when they come out, and just wait till they know they can get parts.
Despite all the problems, the Bullet MT is a good 1/10th monster truck! It has a TON of power and speed, it's is pretty durable, and is a fun basher. The price is right for a brushless 4×4 truck, and HPI has good support for those that need it. It's nice to drive a monster truck again as we are getting tired of the short course scene.
Best Mod Under $5: Unscrew the little top on the battery compartment, and run your battery wire out so you can unplug it when you want to.
Best Mod Over $5: A slightly stronger steering servo would be a good place to start. You don't need more power anytime soon. The new battery holder on the WR8 looks like it may fit. Replacing the Bullet MT box with something accessible would be good.
---
As with all of our stuff, if you see us at a bash, stop by and check out the vehicles we have with us. We may let you take a test drive, and at the very least get you some stickers!
SUMMARY
Time To Bash – 8.5/10 -Insert batteries and go. Oh yea, it's going to take you a few min to get inside that battery box.
Workability – 7.0/10 – It's hard to work on a truck when you can't get the parts. The battery box is a pain, and the tiny square steering nuts did not win us over.
Car Show Rating – 9.0/10 – The body, chassis and tires all look good. The paint job is nice, but the thin HPI body won't last you very long.
Bash-A-Bility – 8.0/10 – We sky'd this truck again and again without any serious issues. Stuff like shocks and ball ends are expected to take a hit.
Fun Factor – 9/10 – Huge air, wheelies, easy to control back flips, what else do you need?
Handling – 8/10 – There is a little under steer with the steering servo, but in the air you can land just about anything
Value- 9/10 – $345 for a 4×4 brushless monster truck? The competition can't come close to this.
Big Squid Rating – 8.3/10 – Tentacles.. Cubby wanted to crucify the truck for the parts issues, but it's no fault of the truck, that was a HPI issue. The truck itself is a solid basher, and at a price point that's easy to get into.
Need more pictures? Check out our Bullet Unboxing pictures.