HPI Falken Tire 2013 Ford Mustang Micro RS4 Drift RTR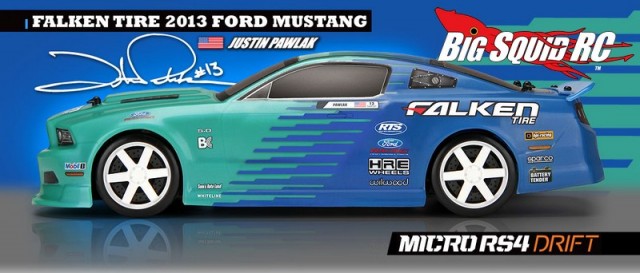 Right after the announcement of their new Ken Block Micro RS4 the good guys over at HPI announced the Falken Tire 2013 Ford Mustang. The Justin Pawlak Edition Falken Mustang comes on the Micro RS4 RTR chassis featuring a 2.4 GHz radio system, waterproof servo, full size electronics and hard drift tires. The 4wd Micro RS4 platform is one of my ATF (all time favorites), they are tough as nails and can be used nearly anywhere, the new Falken Tire version should be a blast to drift around the cul-de-sac.
The part number for the Falken Tire Mustang is #111230 and it comes with everything you need to get up and running inside the box. For more information over on the HPI website THIS IS THE LINK you want.
Can't get enough HPI news? Check out THIS LINK right here on BigSquidRC.