HPI Flux Reload brushless system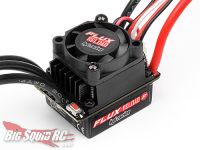 HPI Europe has a new brushless system that's been built with all kinds of users in mind.  The Flux Reload Brushless ESC is a sensorless, programmable 2S Lipo, 9 cell NiMH capable unit that features three running modes: racing (brake only), reversing, and rock crawling.  So it can be used in all kinds of models in all kinds of situations.  It also has programmable brakes with ABS, drag-brake, and brake force adjustments.  Other features include a low voltage cut-off for Lipos, overheat protection, throttle failsafe, and locked rotor protection.  The Flux Reload is also easily programmable with only one button or you can use the 2 in 1 professional program card that is available separately.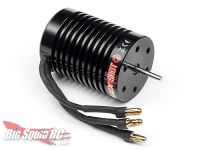 HPI also has a new motor that is a perfect match for the new ESC in the Flux Shot 4300kV motor.     It's a 540 sized motor featuring a machined aluminum heatsink case and a ball-bearing supported rotor.  The 4300kV is roughly equivalent in power to a 9-turn brushed motor.
HPI USA doesn't have any info about these on their site, but it's probably a safe bet that this system will make the trip over the Atlantic soon.  In the mean time check out the HPI Europe web site for more info.