HPI NWK-1 Body for Nitro Monster King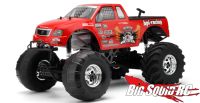 HPI's got a new body for the Nitro Monster King.  Well, not really new in the sense that it's "new," more in the sense that "it's not painted like the old one."  Actually it's not painted at all, despite the promo photo, it's clear so you can spray your own favorite color scheme on it.  The NWK-1 has all the stuff you'd expect with most bodies: decal sheets, window masks, overspray film, and dimples body mount positions.  MSRP for this new unpainted body is going to be $24.00.
Check out the HPI web site for more info.