HPI Racing Brama 10B – RTR!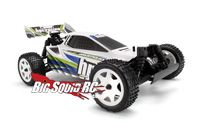 HPI Racing has announced the new RTR Brama 10B with EB10 Buggy Body! This is the first electric 4WD buggy from HPI! The concept is to make it easy to work on, affordable and tough.
The Brama 10B comes ready-to-run, all you need to do is charge the batteries and GO! I might have to check one of these out, it sounds pretty good.