HPI Racing Crawler King and Nitro Monster King!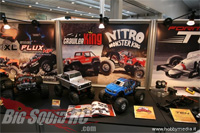 Our good Italian friends site Modellismo Hobby Media have been covering the big Japan Hobby show, so we are going to try and cross promote and bring you some of the news.
Ok, wow, HPI Racing is pulling out all the new stuff at this show! Check these two out. The HPI Crawler King looks like it's going after the crawler/monster market that pretty much only the Traxxas Summit exists in, so some good competition for the. The HPI Nitro Monster King looks like a nitro based crawler! How crazy will that be at the comps? Everyone there, quietly, and slowly making their way up the rocks then out of no where VROOOOOM!