HPI Racing – Cyber 10B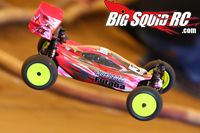 Our good friends over at Modellismo Hobby Media dropped us a line about some info and pictures they got on the new HPI Racing Cyber 10B! It sounds like it will be shipping in very early 2009 in Japan, and is aimed at the newer more amature racer. It's electric, and 4WD.
It showed up a few days ago as a possible Hot Bodies vehicle, complete with picture.. but it sounds like HPI has claimed dibs! It will be interesting to see what name it's under if it shows up in the US!