HPI Racing Ken Block WR8 FLUX Review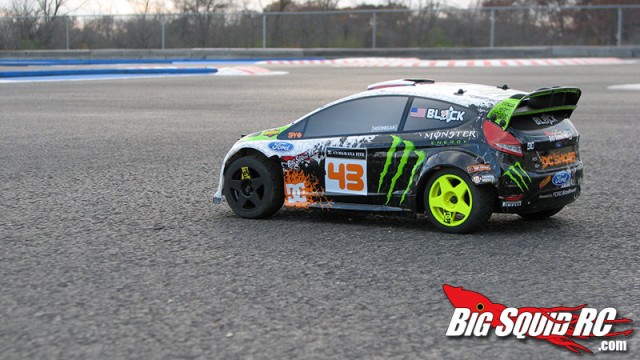 The rc rally scene seemed to show up out of no where and explode with several companies all releases rally vehicles at the same time. The HPI Racing Ken Block WR8 FLUX was an attention grabber from the moment it was announced. The KB license was new to HPI and a surprise to many, so would the rally car live up to the hype? Keep reading to find out..
From: HPI Racing
Direct Link: Ken Block WR8 FLUX
Specs:
RTR or Kit: RTR
2wd or 4wd: 4wd
Shaft or Belt: Shaft
Electric or Gas: Electric
Waterproof: Yes
Scale: 1/8th
Length: 19 inches (485mm)
Width: 8.9 inches (227mm)
Height: 6.7 inches (172mm)
Wheelbase: 11.8 inches (300mm)
Motor: Vektor 4000kv Brushless
Speed Controller: Flux Vapor Pro
Radio: HPI TF-40 2.4GHz
Differential: Front, Center, Rear
Slipper Clutch: None
Shocks: 4 Oil shocks
Servo Saver: Yes
Screws: Hex
Bearings: yes
Tires: Licensed Replica Fifteen52 Tarmac Wheels
Battery: Not included
Part Number: 109314
Street Price: $480
Primary Competition: Traxxas 1/10 Rally, Thunder Tiger ER-4 Mini Countryman
What's Needed To Complete: 4 AA batteries for the transmitter and a 2S or 3S Lipo for the car.
Test Drivers: Brian, Wrench, Adam the Intern, 3DBill
Test Venues: Leisure Hours Raceway On and Off-Road Tracks, and a local cul-de-sacs and parking lots.
Set-up Notes: We didn't do anything special as far as setup goes. We did all the testing stock out of the box.
Build Quality: Out of the box we didn't appear to have any issues till we started to run the vehicle. Just rolling it was much louder than it should of been. We double checked the gear mesh and didn't initially see any problems, so we decided to run it, and figured whatever the issue would show itself. Sure enough after maybe a minute of running the pinion gear lost some teeth and we busted the motor shaft. It appears we had the wrong pitch pinion on the vehicle. Our guess is someone grabbed pinion out of the wrong box during assembly. We replaced the motor and pinion gear and it's been good since. There were no other build quality issues, no leaking shocks or anything else that needed attention.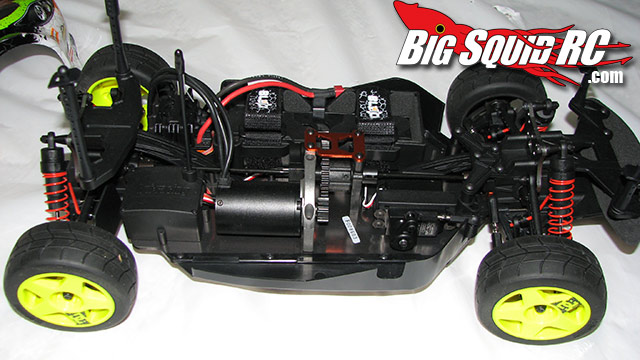 Turning: Turning really came down to the surface. On the smooth on-road track we were drifting corners, doing donuts, and having a blast trying to correct for the power this vehicle had. Off-road drifting wasn't so easy. As soon as you broke the wheels loose you were going to be in some trouble which resulted into some painful wall slams.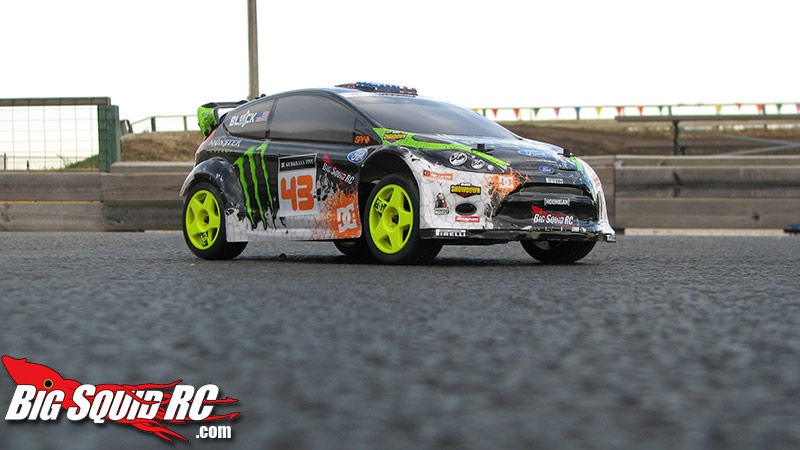 Jumping: We did bring it to the off-road track and jumping was doable. Our biggest problem is that the vehicle rides pretty low, so jumping small was no problem, but the big air resulted in some pretty harsh landings. The Chassis and body were taking some serious abuse whenever we went big. The rally also seemed a little nose heavy. On the big jumps we were fighting to not go into the ground nose first.
Bumps/Whoops: The rough stuff was handled pretty well, but if you weren't landing flat between the whoops it would bottom out. The suspension did ok in the bumps and rough.
On-Road: We had a blast drifting on-road. The vehicle really shines if you are looking to just have fun. If you were trying to put down some super fast laps you are going to need some different tires and some tweaking. If you were out there to have fun and pretend you were a mini Ken Block trying to go all RC Gymkhana, this vehicle would bring a smile to your face!
Grass: Grass wasn't happening. It's just too low to go anywhere.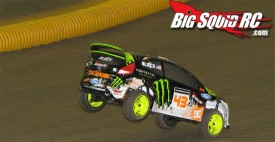 Off-Road We mentioned some details about off-road. It is totally doable in the Ken Block Rally. You don't want to be going huge, but the vehicle can do it, and take it. We got lucky that the track layout happened to be relatively smooth with only a few small jumps, a table top and maybe a double. Driving the track perfect wasn't easy though. It was difficult to nail the landings, you were just happy when you landed it on all four and were able to keep driving.
Tires: The tires are about what we expected and wanted them to be. There was minimal wear on them after many drifting sessions and mega donuts. They were hard enough to give us big drifting turns, but had enough traction to keep us on the track.
Power: Serious power. The FLUX Vektor 4000KV motor was a rocket on 3S and had the ability to break the tires loose on demand. Acceleration and top speed were both fast.
Radio: The included HPI TF-40 seems to be a love it or hate it thing around the office. I think it's a big improvement over previous rtr transmitters from HPI.
Broken Parts: We did end up trashing a pinion and motor shaft, but this was due to a gearing pitch issue. We haven't broken anything else yet, and the rally has been slammed, bashed, jumped, rode hard and put away wet. We really expected some other broken parts by now, but nada.
---
Misc Notes:
HPI did a good job of making a scale rally car that's fun to drive. We'd really like to see some sort of 'rally' class catch on that involved on-road, off-road, jumps, etc. Ken Block fans will dig the detail of the body, it looks good and gets attention anywhere we drive it. The bad gearing out of the box was a bummer. We have heard that this isn't a problem right now, but was a small issue with the first handful out the door.
While the Velcro straps look cool, we did loose a battery during some of our harder bashing sessions. While it's quick to get in and out with Velcro, and lets you put in any size pack without a problem, we are fans of the bar and screws of the Blitz to keep things secure.
It's tough bringing the HPI Rally to a off-road track because the track just isn't set up for the scale of the vehicle, but if you are adventurous, and have a few buddies with rally cars, you could probably make pretty fun custom course.
---
Summary:
A = Outstanding/Best in Class, B = Above Average, C = Average, D = Below Average, F = Horrific
Time To Bash: C We had some bad luck with the gearing out of the box, but 99% of the people shouldn't have the issue we did.
Workability: B We got to experience working on the vehicle pretty early, and overall it was good. Most things were easy to get to.
Car Show Rating: A The body, the wheels, everything about it looks awesome.
Bash-A-Bility: B We have been beating on it good. Big air, wall slams, landings to pavement, and have had nothing break after our first fix. Strap those batteries tight!
Fun Factor: B The drifting has been fun. It's not set up with true hard drift tires, but could be pretty easily. The amount of power the car has is more than enough to keep everyone happy. Jumping could be better, if you kept things tame and 'to scale' you'd be fine, but we don't like to 'go tame'.
Handling: C Handling is a tough one here. It's not as good on road as a on-road car, and it's not as good off road as a off-road. It does both well, which isn't easy, but neither are great.
Value: C $480 isn't peanuts. You do get a lot of power, durability and looks for your money though.
Parts Availability: C HPI has a few WR8 Vehicles now, so ordering parts online isn't bad, but finding them at your local shop will be surprising. Our replacement parts took a while to come in.
BigSquid Rating: B- If your a Ken Block fan, a Rally fan, or a Gymkhana fan, you will want to look into the HPI WR8 KB Edition. It's durable, fun to drive, and looks good doing it.
Need more pictures? Check out the unboxing photos HERE.