HPI Racing LED Super Light System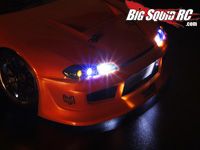 You know, it's cool stuff like this that makes me want to find some more hotspots for RC Drifting in the area! HPI Racing has put out their LED Super Light System for 1/10th scale drift cars. It has 17 light bulbs with 6 different lighting modes. Headlights, tail lights, turn signals, side indicators, brake lights and muffler! They can shine in blue, white, orange and red. What a cool look!
Anyone doing any drifting in the Chicago area? Hit me up.