HPI Racing Plazma Pouch for LiPo Batteries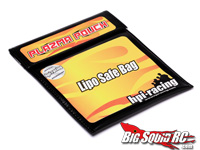 Having a bunch of LiPo's around is no joke. So HPI is helping keep us safe with the introduction of their Plazma Pouch LiPo sack. It's the perfect place to store and charge your LiPo batteries. It's flameproof and ready to increase your safety.
Hit the HPI Racing website for more info.