HPI Racing – Savage XL Octane Review
*Update: Now with Video!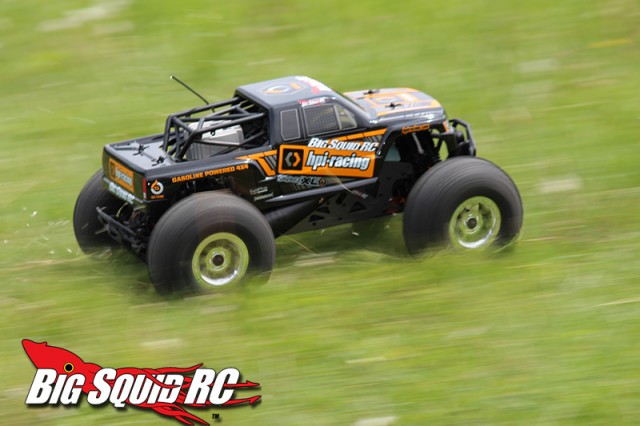 The world has been waiting for almost three years since HPI Racing announced the Savage XL Octane, and it's a good thing we were not holding our breath because we were all expecting it a little sooner. The Savage XL Octane is the first 1/8 Scale GAS monster truck to hit this the market, and a lot of people are wondering if this will be the beginning of the turn from electric vehicles dominance to a full change in the market place. Should you start saving your cash? Is the next rc vehicle you buy going to be gas? Hit the "Read More" to find out…
From: HPI Racing
Direct Link: Savage XL Octane
Unboxing Pictures: Big Squid RC Savage XL Octane Unboxing
Review By: Brian (Bill aka Wrench, and Adam the Intern)
Pictures By: Brian
Specs:
RTR or Kit: RTR
Age: 14+
2wd or 4wd: 4wd
Shaft or Belt: Shaft
Electric or Gas: Gas
Waterproof: Yes
Scale: 1/8
Length: 23″
Width: 17.5″
Wheelbase: 15.5″
Engine: 2.7hp GT15C 15cc 2-stroke engine with pullstart
Radio: HPI TF-20E 2.4GHZ TRANSMITTER
Differential: Beveled Gear
Clutch: 14T
Driveshafts: Dog bones front and rear
Shocks: 4 Big Bore Sport Set. Plastic bodies and caps, oil filled
Weight: 15.6 lbs
Servo Saver: Steering Crank
Screws: Phillips
Bearings: Full set
Tires: Terra Pin Tires S-Compound
Battery: 2 x 5 cell hump packs
Part Number: # 109073
Runtime: 25+ Minutes on full take of gas.
Warranty: "Two year limited"
Street Price: $870
Primary Competition: Losi – 1/8 LST XXL-2.
What's Needed To Complete: You'll need gas mixed with 2 cycle oil (Oil included in box), gas can, battery charger for the internal batteries.
Build Quality: Out of the box we didn't notice any issues with the Octane. Nothing was binding, shocks were filled, everything rolled smoothly.
Test Drivers: Brian, Wrench (Bill), Adam the Intern, Rick
Test Venues: Industrial Park, Local Street, Several Forest Preserves, and the Big Squid RC Secret Test Track Facility.
Set-up Notes: We ran the Savage XL Octane completely stock. We used Premium gas mixed with regular 2 cycle oil at a 25:1 Ratio. We also used a Duratrax 235 Dual Charger to charge up the included two battery packs. If you are in/from the US, you will need to break out those thinking caps to get your mixture right as everything is in milliliters.
Turning: We were pleasantly surprised at the overall turning of the truck. It was effortless to steer it any direction you wanted to go, and under just about any condition. From foot tall grass, to loose dirt and gravel, the steering servo had enough muscle to put the wheels anywhere you wanted them. Of course it's a big heavy monster truck, so if you weren't careful you could roll it and find yourself doing the walk of shame.
Jumping: The Savage Octane jumped well. While a lot of the weight of the truck is in the rear end, the truck normally jumped very straight. If needed, you could tap the brakes and bring the nose down, but bringing the nose up proved more difficult. Getting that heavy mass to rotate up just wasn't that quick. Speaking of heavy, the truck weighs more than 15 pounds, and while the shocks were pretty beefy, there was little they could do when landing from some good size air. We found the truck bottoming out often on even the best of landings.
Bumps/Whoops: In the rough stuff, the truck was a champ. The heavy weight kept the truck moving quickly forward with little to no bouncing while the shocks ate up the bumps while doing all the work. Anytime we were in the dirt, the truck handled great.
On-Road: While off-road is obviously the place for this monster truck, on-road bashing happens. The octane had no problems giving us wheelies on command, and long stretches of road gave you an idea of the speed while you listen to the 3 speed transmission work it's way through all the gears.
Grass: The Savage XL took on the tallest of grass and didn't even blink. We were in plenty of un-mowed fields with grass often over 12″ tall and the truck mowed it down without a problem.
Tires: The pin tires handled well on dirt and in the grass. They are the same/similar tires as previous nitro Savage XL vehicles, but maybe with different foams? Our other Savage tires would balloon much easier, and didn't have the same strength in side to side action as these did. That being said, I feel we would of been happier with something a little more blocky for all around bashing as these pins won't last long with the type of abuse we like to give the vehicles.
Power: The Savage XL Octane has plenty of torque. It gets that massive truck moving pretty quickly in first gear, even allowing you to wheelie from a standstill. We joked that it probably had enough torque to pull Wrench across the grass when he was hanging onto the rear bumper when I bliped the throttle. That being said, it seemed like we always wanted just a little more. The truck needs to shift into second gear almost instantly as first is just to get you rolling. As it worked it's way up to speed, you could see the look on the face of whoever was driving wishing it would just – get there – a little – faster. Our average speed measured by radar gun was 36 mph. This isn't slow by any means, but in a world where similar sized electric and nitro vehicles can hit 50+ we were looking for more. If the top speed was 36 and it got there FAST, that would be ok, but it takes a bit of time to hit that top speed.
Radio: The TF-20E 2.4GHZ radio the truck comes with left us a little disappointed. Previous pack in Savage radios featured a drop down style wheel, foam, and felt good in your hand. For our almost $1000 truck after taxes, the radio seemed on the cheap side. It worked well enough, we didn't have any glitching or distance issues, it just wasn't as good as previous HPI radios.
Broken Parts: We broke an interesting part earlier on. The metal wire/spring that attaches the exhaust pipe to the truck for stability at the end of the pipe. Not sure how we even broke one of those, but we did it. It's metal, and springy. Not a huge deal. We have been running this truck for a week, and so far that is our only broken part. We have been jumping, bashing, and driving the heck out of the truck, and so far it's still in one piece.
Misc Notes:
The elephant in the room with the Savage XL Octane is the volume. This truck is LOUD! Adam the Intern was quoted as saying it was 'Obnoxiously loud.' And he likes to be obnoxious. It's easily 3 or 4 times louder than our Baja 5B. You might not think this is a problem, but trust us, it was. We had the police arrive within 10 minutes of running at 3 of our favorite test locations. These are locations we take nitro and 5th scale gas vehicles to all the time! We were told we could not run this truck there. This forced us to go to our new secret test track facility we have been working on, but we haven't finished yet. The noise level is a bit of a bummer. Normally, guys throw on louder pipes to be loud, or get a little extra speed, whatever, but this truck starts off at 11 making it difficult to use at your average bash spots, and forget about running it in your neighborhood cul-de- sac without your neighbors hating you.
Getting up and rolling took some serious time. After break-in, tuning was feeling more like a nitro engine than a gas vehicle. We brought along our Baja 5B as a 'control', it's been beat into the ground and put away wet for years. It hasn't been started in over 8 months, still had 1/2 of tank of old fuel in it, and it started FIRST PULL. The Octane hasn't been this reliable. Sometimes it would start first pull, sometimes I had to intervene and stop Wrench from throwing it across the field by it's pull string. We even experienced the Octane flaming out, or just dying while driving after a ten or fifteen minute run. If we were fine for the first 15, why are we stopping now? While we felt we were running rich enough, we think it occasionally over-heated during our test week. Temperatures outside ranged from 75-90, and we would experience times where we just could not get the truck started till we let it cool down for 30+ minutes. We are hoping that with a little more tweaking we can solve some of these issues.
Dialing in the 3 speed transmission took some time as well. We found it best to shift to second just after the truck gets rolling as first gear tops out pretty quickly. Our third gear was a bit tougher to get right as the screw seemed to have no spring tension on it at all. Once we got it dialed with our speed runs, we haven't touched it since.
HPI has recently released a .pdf file with tips to get your Octane dialed in. Make sure you check it out!
The truck looks good. The wide body was liked by everyone, and it gave it a aggressive stance. It's also held up very well to our week of abuse. With the body off, and just the cage, it looked equally as mean, leaving us to think of what other body styles we could run or make fit that would show off this look a little more.
We aren't big fans of the ignition off switch or location. Just knowing you will eventually have a problem where you NEED to shut it down, a little red slide switch right above a fast spinning tire is no place we want to put our hands.
We are sure the two separate battery packs (one for servos and radio, the other for the ignition system) are there for a reason, but a one pack solution would of been nice. Not sure if that's even possible though. This also leads to having two on/off switches. And while in your head, you know your supposed to shut off the red one first, it's inevitable that someone, at some point will shut off the radio one first, and you better hope your fail safe is ready to go.
The brakes work very well for the size of this beast. We had no problem slowing down or stopping when needed.
The included body clips are a good size. Easy to attach and remove, too bad Wrench lost one of ours in the grass shortly after testing started. (He claims I wouldn't let him forget.. so why not remind him here)
Previous Savages tended to eat diff gears for lunch until you got them shimmed perfectly, we haven't experienced any issues with the Diffs on the Octane so far.
Overall: Congratulations to HPI for being first out the gate for this new genera of 1/8th scale gas vehicles. After announcing it almost 3 years ago, it was a close race to see who was going to make it to the market first. While the Savage XL Octane is now out the gate, we think there is room for improvements, and we hope to see lots of aftermarket support for the vehicle. As time goes on, we may update this review to include tips or tweaks we have found to work well.
Best Mod Under $5: Might as well protect your investment and consider going to a synthetic oil mix. Also bet you could benefit from a good quality spark plug. Never hurts to keep one handy. These aren't going to be like the 20 glow plugs you have sitting around in your pit box.
Best Mod Over $5: Our fingers are crossed for a tuned pipe with a lot less volume. Wrench's first upgrade will be some Pro-Line Trenchers. Shocks could probably be added to your list.
---
Summary:
A = Outstanding/Best in Class, B = Above Average, C = Average, D = Below Average, F = Horrific

Time To Bash: C- It's been a while since we have had to spend a afternoon tuning a motor. Extensive tuning of a gas motor was something we were hoping to avoid this generation.
Workability: C Some things are easy to get to, some aren't. Older Savages had a nice external plug for charging batteries, the Octane needs to be opened up, and both batteries disconnected and re-charged. Tuning hasn't been ideal, and so far we aren't seeing the epic reliability of previous gas vehicles.
Car Show Rating: B+ The truck looks good. The wider body is a big upgrade from previous savages, and even with the body off, it looks tough.
Bash-A-Bility: B The truck has taken a pretty good beating with minimal breakage. Previous Savages have broken parts quicker out of the box.
Fun Factor: C The truck can bulldoze through just about anything. It has a crazy amount of torque, but top speed, and reaching that top speed left us wanting more. If obnoxiously loud is your thing, you are going to be in for a treat.
Handling: B The Savage XL Octane handles better than expected on all sorts of terrain. The steering had enough power to keep us happy and pointing where we wanted to go. The shocks held up to the rough stuff without issue, but landing from the big air had us bottoming out.
Value: C The truck isn't bad, but at $960 after taxes, you are looking at double the price of a Nitro Savage. We know the first of anything is always going to be expensive, we get that, but a cheap radio, plastic shocks, Phillips screws, and knowing we could have any other electric or nitro monster truck on the market of similar scale, and still have a few hundred dollars in our pocket brings the grade down quite a bit.
Parts Availability: C HPI has been hit or miss for parts support over the years. You probably won't find the Octane parts you need at your local hobby shop for a while, but you'll be able to purchase them online.
BigSquid Rating: C+ We applaud HPI for being the first out the door in the small scale gas vehicle department. We know, and expect a few growing pains. We have been wanting this truck for years, and hoping for it to be a game changer. For those that want the loudest bulldozer on the block, this is your ride. Time will tell if the Octane becomes our 'Go To' ride for quick and easy starting week after week, month after month, and year after year. Right now we just aren't there. It's a little early in it's lifetime to know for sure. We hope that there is a aftermarket to help us get dialed in, and enjoy the vehicle in the way we have been dreaming about for years. While some of us have been saying the new gas revolution may be the death of the electric, the Octane is not the dragon slayer just yet, but we can see the potential.
Check out the video below of some raw footage we shot during testing.