HPI Racing SF-50 Servo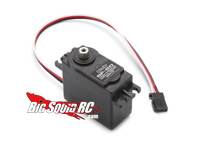 The new high torque SF-50 Servo from HPI Racing is a replacement for the SF-5 that comes with most HPI trucks and buggies. It's got metal gears, and the power needed for vehicles like the Savage Flux and Vorza Flux, and is ready to drop right in. Specs 6.0v, 0.18sec/60, 12kg with a Futaba J Connector and Metal Output Gear.
Drop by the official HPI Racing site for more information.