HPI Racing to release a new Mini next year?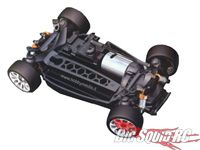 I totally forgot about this picture in my mail box! Our friend Francesco dropped us a line from the Tokyo hobby show about this cad image they spotted in the HPI Racing booth. It appears to be some new sort of HPI Mini vehicle. Picture borrowed from Modellismo Hobby Media with permission.
I'll make a few phone calls today, and see what if I can find out some more information!