HPI Savage Flux Conversion Kit for Nitro Savage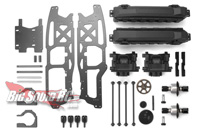 Another one of our exlusive scoops has come true. The new HPI Racing Flux Conversion Kit for a Nitro Savage. This kit comes with everything you need except the electronics (esc and motor) to convert your Nitro Savage to a Electric Flux version! Metal gears, heavy duty diffs, steel spur gear, twin battery boxes, chassis and more! So if your looking to do some serious back flipping, you may want to start saving your $!
We LOVE our Savage Flux, and beat the heck out of the thing on a weekly basis! You can read our Savage Flux Review here.
Check out the HPI web site for more info.