HPI Savage X 4.6 RTR Monster Truck Review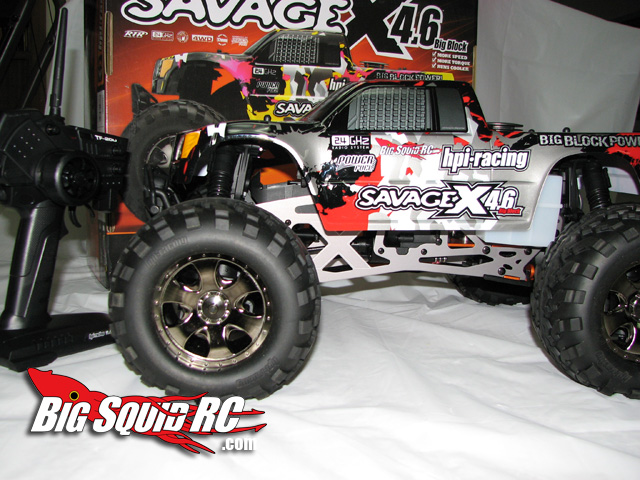 So lets say your tired of all the 'electric this, and lipo that' and you want to get back to your basher roots. You want something loud, something big, and something that can take a beating. While it might seem like it, the whole world has not gone electric yet. HPI Racing wants you to reconsider making the electric jump and do some nitro bashing with their Savage X 4.6 RTR Monster Truck. We got our hand on one, lets see how stacks up…
From: HPI Racing
Product Page: HPI Savage X 4.6
Where to buy: Tower Hobbies or your local hobby shop.
Specs:
RTR 1/8 Scale 4WD Nitro Monster Truck
4.6 CC Engine
2 Speed Transmission
2.4Ghz Radio system
Roto Start System
Waterproof servo's
Length: 534 mm
Width: 427 mm
Height: 254 mm
Wheelbase: 336.5 mm
Everything you need to get up and running quickly was in the box except fuel. HPI even included batteries for the transmitter and roto start.
Build quality:
Out of the box, there was nothing that needed fixing. Nothing appeared to be stripped, no screws were really over tightened or too loose, and we were able to hop on the break in process pretty quickly. I think our only beef with the build is that HPI is still using philips head screws all over the place. While we haven't had any issues with them yet, you know it's only a matter of time before you strip one.
Break In:
The break in went very smooth. The Roto Start got the big engine running quickly and tunning went very well. Patience is a virtue when it comes to the break in process. While you may want to start the motor and yank that throttle, you will be much happier if you take the time and break it in right. Get a few tanks of fuel in it, keep an eye on the mixture, the temperature, and enjoy the rich nitro fumes.
Handling:
The included steering servo does a decent job of turning those big tires and aiming you where you want to go. In the air, the truck handles like a dream, and the big shocks work well on the landings and bumps.
Bashability:
The power that this engine puts out is mind boggling. It takes some concentration and a light touch to keep the front wheels on the ground because it is a wheelie machine! You are going to want (need) a wheelie bar because until you get the feel for the throttle, your going to spend a lot of time on your lid. For several weeks now we have been beating the heck out of this truck. We have had it at skate parks, tracks, parking lots, bash spots, and we haven't busted a single part. (Just a gear or two, you can read about later) We have been putting up HUGE air and the truck flys like it has wings. If you want to just jump straight out, it's easy to control, and landings are a breeze. If you want to pull a back flip or a double, there is more than enough power to make it happen and stick the landing. We had it at a local skate bowl, where everything is made from concrete. Bill was going crazy huge, showing off for all the skaters, landing hard on the cement, and no problems at all. Two moments that brought smiles to our face that I can remember: Pulling the throttle hard off the line, I had the front wheels off the ground but not enough to be using the wheelie bar, and after about 20 feet, kicking into second gear while still riding the wheelie. The second one, you can see in one of the pictures was giving it a ton of gas to pop the truck completely onto the wheelie bar, then riding that up the ramp and finishing with a backflip. The amazing part about that one is how consistent it could be done. This truck is a true basher! (Can you tell we like the bashing?)
Maintenance:
Just like many of the other Savage trucks, it's pretty easy to work on. A few screws and you have access to most of the drive train. Making adjustments to the shift point is simple, and just about everything is easy access. During our weeks of testing we damaged one rear bevel gear, we believe this happened when a bearing blew out. We replaced both, and have not had a problem since. We also shredded one spur gear on a really bad landing, full on throttle trying to pull out of a double backflip. The spur is plastic, so it pretty much sacrificed itself to save the rest of the drive train. Another easy fix, and we were back up and running. The Savage line has been around for a while and there are a good amount of parts that work/fit from one to the other, so the odds are good your local shop will have some parts if you need any.
Other Info:
It's nice to see the waterproof servo's added to the HPI line up. While you don't want to go submerging this truck, you may want to play in the rain or snow once in a while, and now you can. The included 2.4Ghz radio is good enough to allow you to have fun, and we didn't have any problems while running. The HPI Roto Start is always a nice feature. I'd take this any day over a pull start or starter box. On the Radar, we were just over 40mph which is plenty fast for a truck this size. The 2 speed lets you get moving quickly, and launching to the sky was easy on any jump.
Final Thoughts:
Trying not to just re-write the bashability section here, this truck is a true basher! We had a blast with it at every location we took it to. While you can't just 'turn it on' and go, the roto start does get you started pretty quickly, and the tuned nitro sound is always a welcomed noise. The engine held it's tune well, and has just a ton of power and torque. You won't find yourself wanting to do a 'engine upgrade' any time soon.
Like with all of our stuff, if you see us at a bash, or out at the track, stop by and check out what we brought with! Don't forget to get some stickers from us!
If you need more pictures, make sure to check out our unboxing pictures posted recently.
Summary

| | |
| --- | --- |
| Time to Bash | 8/10It's ready to run, but you still need to break it in. |
| Workability | 8/10 The Savage series of vehicles are usually pretty good to work on, and this one is no exception. Would like to loose all the philips screws. |
| Car Show Rating | 8.5/10 It comes with a cool paint job, the rims/tires look good, and it sounds great. |
| Bash-A-Bility | 9.5/10 Extremely durable, and a ton of fun to bash with! |
| Big Squid Rating | 9/10 Tentacles… If your in the market for a nitro basher, this is great choice! |