HPI Savage XL Pictures and Update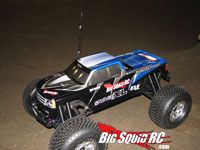 So I thought I would post a quick update on how things are going. I must say that the
HPI Racing Savage gets a lot of attention at the track! Just walking into our pit table with the truck we were turning heads. By the time I set it down on the table, there were 2 or 3 people coming over to get a closer look. We let everyone who wanted a chance to check it out, do so. There was a lot of inspection going on, comments about this and that, then people started bringing over their own trucks of all types to see how they compared to this new monster!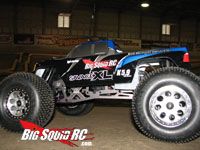 Most people walked away talking about placing an order ASAP. It was bigger then every truck at the track. Someone brought over a MGT, but the Savage XL had it beat.
After a few more break in tanks, I was starting to get brave enough to pull the trigger and start getting some air. The truck handles great! I was unsure how a truck that large was going to do in the air and on the landings, but it was surprisingly smooth. Of course I pushed the jumping a little more and took some nasty tumbles and hits, but after a good few hours of running that evening, nothing, NOTHING was broken. Towards the end of the night I was pulling wheelies when the traction was right!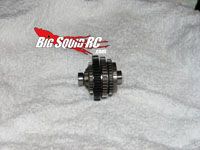 This engine has some amazing torque and power. It gets this giant moving quickly, and does what it needs to do. The braking was also better then expected.
A little more running, and working on the truck, and I will be ready to post up a review. Here is a hint of what I was doing this evening. It looks like HPI Racing has another winner for this summer!