HPI Savage XL Pictures of the Unpacking!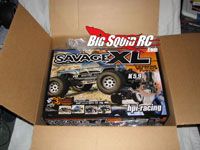 I'm not 100% sure we can claim FIRST on this, but if not, it will be pretty darn close to first! Our HPI Savage XL arrived today! I snapped a few pictures as I opened it and took it out. First thoughts: WOW! It's BIG! The motor looks MASSIVE.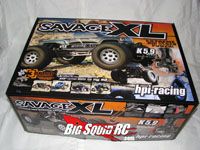 HPI Racing is really working hard to keep us bashers happy! The tires and wheels look great. The electronics all seem nicely packed away, and everything looks roomy. We will be doing our best to get this monster out and tested since I'm pretty sure there are a lot of people looking for a early review! For now.. enjoy the pictures of the new and shiny HPI Savage XL! It's the cleanest it will ever be again.
Hit the Jump for more pictures!