HPI Savage XS Flux Review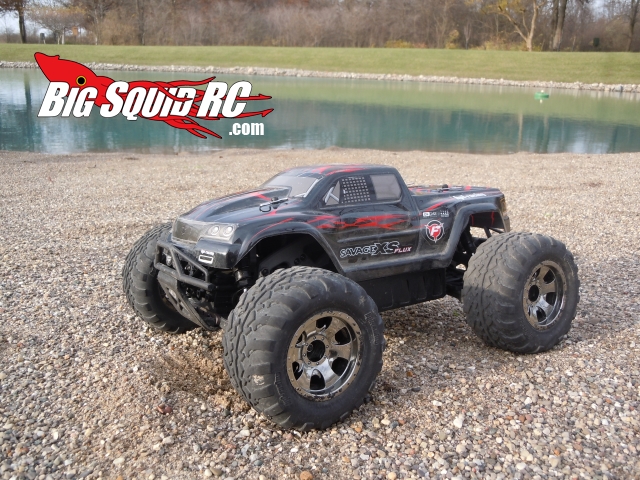 For me, the HPI Savage XS Flux has been the most anticipated new release of 2011. If you've read anything I've written this year, the XS Flux has almost always been a topic, if even for just a moment. I have been a bigger hype machine for this truck than Rex Ryan has been for his New York Jets. However, with tons of hype comes very high expectations. Is the XS Flux the go-anywhere, crazy powerful, face-meltingly fast mini monster truck I've spent the last few months hyping it up to be? Click through to find out!
From: HPI Racing
Direct Link: Savage XS Flux
Reviewed By: Evan "Bash Heavy" Hunter
Photos By:
Driven By:Evan, Tim, Cubby
Stock Specs:
– TF-40/RF-40 2.4GHz Radio
– SF10W Waterproof Servo
– Waterproof Receiver Box
– Vapor Pro Waterproof Brushless ESC
– Vektor 4000Kv 1410 4 Pole Brushless Motor
– Fits Standard 1/10 scale Electronics
– All-Metal Drivetrain
– 2.2″ Wheels and Tires
– Quick Access Diffs by Removing Just 4 Screws
– 4-Gear Diffs
– TVP (Twin Vertical Plate) Chassis
– Stainless Steel Bulkhead Lower Plates
What's in the Box:
Advertised as a Ready-to-Run, the XS Flux is…almost ready to run. You'll need a battery for the truck, as the XS Flux doesn't come with one. Of course, you'll also need a charger for that battery. A much-appreciated Deans Plug comes pre-installed.
If you want to get the full scoop on what's inside the box, check out our Unboxing Post!
Initial Impressions:
Minus the wheelie bar, this thing from a distance looks just like it's big brother the Savage Flux HP. The body looks a tad bit small on the truck, and is a strange size, which will make replacing it with something already out there pretty difficult. Although, HPI has promised some new bodies to change the style up a little bit.
For a mini, the XS Flux definitely weighs more than it looks. Clearly smaller than the Traxxas Stampede 4×4, it weighs about the same. How they managed to fit 1/10 scale electronics on this thing is nothing short of an engineering miracle, that is both a gift and a curse (more on that later). The whole truck feels really stout. The TVP chassis is plastic, but crazy stiff. The suspension feels really good, and the shocks look like 1/10 scale, plastic threaded-body shocks.
The TF-40 radio is really decent for an RTR. Heck, it even has semi-easy to access endpoint adjustments. The receiver box sits right in between the TVPs, and the waterproof gasket really looks like it will do the job. I also love that I can plug the Flux Vapor ESC into my PC via CastleLink USB cable and access all kinds of programming goodness. This came in handy as I had to dial the brakes down just a tad out of the box.
If you just push XS flux forward on the bench, it make the same stutter/clunking sounds that the big Savage Flux HP does. The body posts and bumpers are made of some softer, more flexible plastic material that has me a little concerned, but should bend/move on impact instead of break. The wheels and tires look good on the truck, but are clearly more of an all-terrain tread than a traction machine on dirt.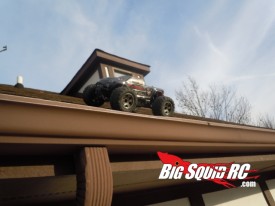 Behind the Wheel…almost:
I have reviewed the last three HPI Racing vehicles we've had here at BSRC. The *Updated* E-Firestorm Flux came out of the box with the radio not bound to the receiver. The E10 Drift Mustang's motor literally fell out of the motor mount when I took it out of the box. My Savage XS Flux… The set screw for the pinion was so loose out of the box that the motor shaft just spun inside the pinion. While this is an easy fix on most vehicles, it isn't on the XS Flux. If I counted correctly, I had to remove THIRTEEN screws, loosen the middle drive shafts, and remove the entire center gearbox from the truck. This is the curse part of fitting all that 1/10 scale stuff on a mini vehicle. I don't mind the wrenching, as this is a compromise you make for having all this power on such a small platform. I am a little annoyed at this point with HPI's quality control. Sure, I got each of the vehicles as soon as they were shipped (so I was probably on the initial shipment from the factory), but they still shouldn't have these types of issues. None of them prevented me from driving day one, but all of the prevented me from driving right away. This isn't really a "new to RC" vehicle, so most owners should be able to fix this issue, but it still stings a little after back-to-back-to-back out-of-the-box problems. Geez, that's a lot of hyphens.
I can say that our second XS Flux, the one we gave away at iHobby 2011, had no issues out of the box. Hopefully, I just have bad luck.
Behind the Wheel…finally!:
THIS…THING…HAULS! Even on 2S, this truck is crazy fast, especially for its size. At iHobby 2011, Cubby, Tim, and I drove our demo unit around the track for a couple packs before we gave it away. On the carpet, Cubby and Tim were doing standing backflips on 2S! Cubby has driven a ton of stuff, and even he said "I don't know if you've driven one of the new Savage XS Flux's, but they are hands down the fastest mini I've ever driven." Don't believe me? Read it in his Cub Report from October 25th. High praise? Very…and Cubby didn't even drive in on 3S!
On 3S, this truck is BEYOND INSANE! 60+ MPH is very real. Without a wheelie bar, you have to handle the throttle with kid gloves as it will backflip onto its lid with a blip of the throttle on a speed run. My body already looks like I held it on a belt sander from being a little too overzealous with the trigger. Consider all other stock minis OWNED in this category.
The battery box was a big concern of mine. With all the 1/10 scale electronics, they had to make up some space somewhere, I thought. Well, I'm happy to report that there was no sacrifice when it came to battery compartment size. The 2S 5000MAh LiPos I've been running measure 5 1/2 inches long, 1 7/8 inches wide, and just barely under 1 inch tall but still resulted in a little play inside the battery box. You won't be sticking high-MAh 3S lipos in, but my 3000MAh packs fit no problem. The battery box is a cool design, and while the little latches that hold it shut are a bit…funky, they work really well and win over body clips every time.
There is simply no shortage of power with the XS Flux; from bottom to top, it has more than enough power all the way around. With that being said, I have a few small criticisms that come along with all that horsepower. First, I found the truck to "diff" out way to easily. This has been a criticism that I've had about a lot of 4WD monster trucks lately, so it shouldn't come as a surprise. It's an easy fix (just put some heavier fluid in the diffs), but it does seem to affect the handling characteristics of the truck on any surface. The other criticism I have is that the power-to-vehicle size ratio is just a little out of whack. This thing is faster than most 1/10 scale bashing vehicles, but it isn't nearly as easy to drive. You don't get the ground clearance, ability to handle rough terrain, and stability of a bigger, wider, 1/10 scale vehicle. It creates this weird struggle over expectations. I found myself driving it like a 1/10 or 1/8 scale vehicle because of the performance, but being almost surprised when it didn't land as smoothly off a 15+ ft. jump. It consistently went just as big as my 1/10 scale stuff, and was usually faster. It's just this weird battle you fight sometimes. It has nothing to do with the truck; its just all in your head.
While there is plenty of motor, it feels like there needs to be a little more servo. Again, not an awful fix (although harder due to the design), but the stock servo felt a little slower and weaker than it should have been. By weaker I mean torque, not durability. All of this is really personal preferences, not flaws. One of the best parts about the hobby is grabbing a truck and tweaking it to make your own. The XS Flux has an awesome base, but for me, a few tweaks may happen.
I spent most of my time on 2S, with the vehicle being completely stock. Unless you're doing speed runs, that should be more than enough voltage in my opinion. While I just got done talking about the size being a bit of a conundrum, I can say that the size also warrants some really cool advantages. It doesn't take up hardly any room, yet is at home in a parking lot, indoor track, outdoor track, park, or any other local bash spot. Onlookers were almost flabbergasted when I'd make a speed pass. It's crazy to see something that small go so fast. The tires performed well on the variety of surfaces I tested them on, and wheelies were easy as long as you didn't "diff" out.
I can say that this truck should not be purchased for someone just getting into the hobby. It is way too fast, doesn't handle quite as smoothly as those 1/10 starters we recommend, and it can be complicated to work on.
Durability & Bashing:
The Savage line was designed with Bashers in mind. The XS Flux is no exception. I promised myself I wouldn't talk about power anymore in this review, but it has more than enough for even the most extreme bash sessions. This truck will go as big or bigger than 1/10 scale stuff, with backflips being almost easy at times. The truck jumps well, but is a little harder to control in the air simply because of its size. You can easily correct with throttle/brake, but be careful on the brakes. It will dump the front end hard. Turning down my brakes a bit helped with this.
A typical testing session with me always started with a few speed passes. At least one of those passes would end in a cartwheel that felt like it went on for an hour. From that, I would move to your typical bash stuff. I found this truck really started to stimulate some "MacGyver bashing". I'd make jumps out of a trash can and some plywood, propping wood up against a rock pile, and I even stacked some old aluminum siding against a junk refrigerator (it sounds like a bash in a post-apocalyptic wasteland, but it's really very nice in Indiana). I launched the XS Flux off of skakteboard ramps, skying 15+ ft. in the air, and slamming down out on the flats, over and over again. Other than my slipper coming loose once (which you can actually fix without removing anything but the body), I haven't broken anything yet. The truck handled tall grass, rocks, and all kinds of other stuff without any issues. I'm notorious for breaking stuff. I've torn up stuff others can't. Brian and Wrench can't believe me half the time when I tell them what I bust. The XS Flux, however, has stayed strong and solid. I've actually closed my eyes as the truck landed in fear of pieces flying everywhere, and cringed watching it cartwheel a dozen plus times across asphalt at 50+ MPH. Everything is still solid. The body is pretty scuffed, but that's it. The softer, more flexible rubber on the body posts and bumpers has held up without issues as well. This thing is tough.
Conclusion
Is the HPI Savage XS Flux worth the hype? In my opinion, yes it was! The XS Flux was advertised all along as a go-anywhere "mini" version of the Savage. It is insanely fast, capable of taking a beating, and really at home on both dirt and tarmac…and really anything in between. I've had a ton of fun with this thing, and it fits in about anywhere.
The only real concerns I've had is the diff fluid being a little on the thin side, and the sort of odd…scale. It isn't as big as a Stampede 4×4, but it is clearly bigger than the 1/16 scale stuff from Traxxas like the Mini-Revo or Mini-Summit. It is hands down a "mini" category killer, but really doesn't drive quite as smooth as the 1/10 scale stuff does. It's smaller, so I wouldn't expect it to. It's just that "mind over size" thing I mentioned, and clearly still struggle with. Finding tires and a body may be a bit of an issue, too due to the size.
These concerns are minor, and the XS Flux is going to be a staple in my bashing lineup for a long time.
As with all of our stuff, if you see us at a bash, stop by and check out the vehicles we have with us. We may let you take a test drive, and at the very least get you some stickers!
Summary
Time To Bash – 8.0/10 – Not a true "RTR", as you'll need a charged pack (2S-3S LiPo) with a Deans Plug before you can drive.
Workability – 7.0/10 – There is a lot of BIG stuff on a LITTLE truck. Be prepared for some repairs to take a little longer than on other vehicles.
Car Show Rating – 8.0/10 – It's a Savage. You can tell the second you see it. You will see quite a bit of the chassis hanging out below the body, but it doesn't exactly look bad that way.
Bash-A-Bility – 9.0/10 – Nothing broken yet! Although, I'm staying on 2S and still going HUGE! 3S may send this thing into orbit, but I'm betting it stays together just fine.
Fun Factor – 9.0/10 – Face-melting speed runs, mega big air, wheelies, and power for days! If that isn't fun, I don't know what fun is.
Handling – 8.0/10 – The size makes rough terrain a little awkward, but the suspension does a great job. The truck is super controllable in the air, but can be a bit much at times.
Power – 10/10 – If I could, I'd give it an 11. In case you didn't get it the ten times I mentioned it already, the XS Flux has MAD CRAZY PSYCHO AMOUNTS OF POWER!
Value – 9.0/10 – For $300, you get a whole lot of truck. It doesn't scream "upgrade me" out of the box, so you really don't have much more to put into it other than batteries and a charger.
Big Squid Rating – 9.0/10 – Tentacles… If you want a basher/speed runner/all-around truck that doesn't break your back or the bank, you simply must own the Savage XS Flux. It rocks. Plain and simple.