HPI Savage XS Flux Unboxing!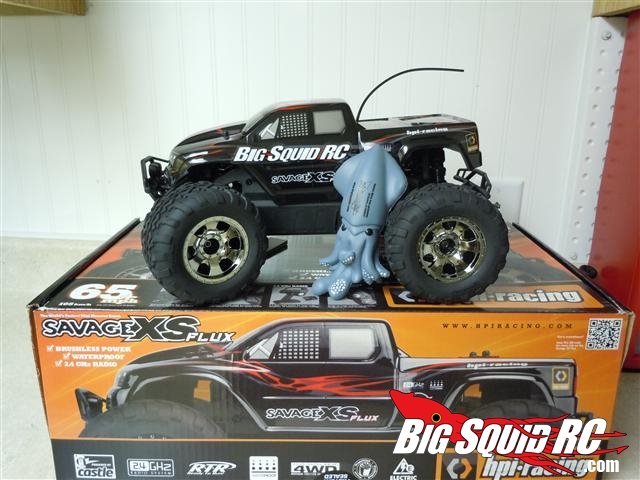 It's here! It's here it's here it's here! The HPI Savage XS Flux is here! Here are the unboxing pictures, including a pic of the XS Flux next to the Traxxas Stampede 4×4. Keep in mind that my 'Pede 4×4 has the JConcepts body lowering kit with Pro-Line wheels and tires, so it is not quite the stock appearance. However, it does give you a good idea on the size.
There has been a lot of dispute online about the size of the battery box on the vehicle. I've included a pic of an SPC 4700mAh 2S Hard Case lipo going right in without any issues. The official size on that guy is 138.5mm long x 46mm wide x 24.5mm deep. It's a good fit with JUST a little more room to spare. That seems like plenty of room to me.
The suspension feels very plush. Threaded shocks make it easy to adjust, too. The truck is crazy heavy for it's size. It's surprising when you first pick it up. I really would say more, but I've got to get a pack in this thing and drive it before my head explodes with excitement!