HPI – *UPDATED* e-Firestorm Flux Review
I blame Jeff for posting the first sneak peak pictures of the *UPDATED* HPI e-Firestorm Flux from RCX and sparking my need to get one. The Firestorm Flux shown at RCX wasn't a completely new stadium truck, but it did have a ton of new features like waterproof electronics, an updated motor and ESC, 2.4GHz radio system, and two sweet new paint schemes. That was more than enough reason for me to pick one up and give it a thorough bashing. How did it fair? Should you pull the trigger on one as well? Hit the "Read More" button to find out!
From: HPI Racing
Direct Link: HPI e-Firestorm Flux
Review By: Evan
Photos By: Tori "T-Unit" M.
What's In The Box:
The *UPDATED* HPI Firestorm Flux comes completely ready to run. Everything you need to get out and bash is included; a 8.4V 3300mah NiMH battery, wall charger, and AA batteries for the radio. The Firestorm Flux now comes with a Flux Vektor 4800kv brushless motor, and waterproof Flux Vapor ESC. The 2.4GHz receiver is housed in a waterproof electronics box, and the transmission gears are all metal. Alloy dog bones, a waterproof steering servo, and a full set of ball bearings round out the package, which is available in two different paint schemes (orange,/black/silver/white or pink/yellow/black/white). If you want to see exactly how the Firestorm Flux looks in and out of the box, check out our Unboxing Pics!
Out Of The Box:
Is it just me, or do all HPI vehicles have an awesome new car smell? The first thing I noticed about the Firestorm Flux is how similar some of the parts looked design-wise compared to the HPI Blitz. The chassis design is very similar to the Blitz, and the A-Arms and axle carriers are actually identical. This is a very good thing in my opinion as I am a massive fan of the Blitz. I will say that the included 2.4GHz radio isn't going to win any beauty contests, but despite the all-plastic wheel, it actually didn't feel that bad in my hand. My initial run through found now loose or stripped screws, and things appeared to be put together very well. Lastly, the included Vapor ESC is programmable with the CastleLink software from Castle Creations. This is an awesome feature and really allows you to tweak just about every setting imaginable for your ESC. Some of the more advanced guys will love this feature right out of the box.
Off And Running…Almost:
Before I was able to get up and running, I ran into a couple small issues I wanted to pass along. First, my radio and receiver managed to get out the door at HPI without being bound together. Not a big deal, as the removal of a couple screws gained me access to the receiver inside the waterproof box (which was designed very well, by the way). So if you notice you don't have communication between the radio and receiver, double-check that they are bound correctly. It is also worth pointing out that our steering servo was quite a bit off center. So much so that full right trim was unable to keep the truck from still veering slightly left. Another quick fix with the removal of just a few screws, but still an issue that kept me from bashing right away.
Off And Running:
Man, is this thing fast! The majority of my testing was done with 2S 20C lipos, and power was never an issue. The Firestorm Flux wheelies with ease on tarmac, concrete, and dirt. However, it isn't uncontrollable or hard to drive despite the power. Although it is a stadium truck without the ground clearance of a monster truck, the Firestorm Flux had little trouble in short grass. Sure, you lost some overall speed from the drag, but there was plenty of power to rip around a freshly mowed lot. On 3S the Firestorm was crazy! I have no doubt that the 50+ MPH tag line from HPI is accurate.
The stock radio had good range, and the stock steering servo did a pretty decent job moving the front tires from side to side. The front ribbed tires had a decent amount of front bite on just about any surface. I didn't do any tuning out of the box so I'm sure the bite could be improved, but I had no complaints. The rear tires are a standard knob-type tread, and also did a great job keeping all that power on the ground. After many packs on dirt, tarmac, concrete, grass, and stones, I see very little tire wear.
I wasn't able to get the Firestorm Flux out on the track right away due to the seriously awful weather we had in Indiana this spring. All it did was rain. However, this was a great opportunity for me to test out HPI's first officially advertised "waterproof" vehicle! I did my fair share of puddle splashing, wet grass running, and mud roosting waiting for a few nice days where I could get this thing on the track. After any session that involved water, I would do a pretty in-depth tear down of the Firestorm Flux to oil things back up, and check for damage. I am happy to say that my receiver stayed dry, and I had no issues with the servo, motor, or ESC. The bearings also seem just fine, but keep in mine I followed a good maintenance procedure whenever I came in contact with water. This is a VITAL part of any waterproof vehicle. If you want it to keep running well, and to stay waterproof, make sure you maintain it.
On the Track:
After what was literally weeks of daily rain showers, the weather finally started to lift and I was able to get the Firestorm Flux out on a track. I am by no means a racer. The track I tested the truck on was also by no means groomed. However, overall the Flux performed very well on the track. After making a quick adjustment to the foams that hold the battery in place, the Flux jumped smooth and even, with just the slightest bit of nose-up. It was easily correctable in the air with the tap of the trigger, and as I said before, it had plenty of power. As with every 2WD vehicle, I found myself craving more front bite, but it was far from bad. With a little tuning I know I could achieve more, but as with most reviews I do, I don't like changing the out-of-the-box setup during them. As I stated earlier, I am not a racer. I cased doubles, smacked pipes, and clipped a buddy's short course truck a handful of times. The only issue I experienced was the ball cups on the turnbuckles popping off the ball studs. This only happened on pretty significant hits that an even remotely talented racer wouldn't have. Even so, just walking over and pressing the cup back onto the ball would have you up and running again. I'm quite confident that under the normal conditions the Firestorm Flux was designed to run in, you would have no real problems with breakage.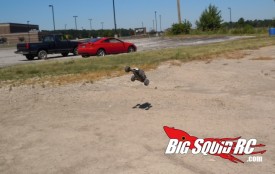 Bash Time:
As you know, we here and Big Squid don't exactly stick to the "normal conditions" a vehicle was made for. After I got my time in on the track, it was time to take the Firestorm Flux out of its element and give it a little bash time! I aimed for skateboard ramps, big time BMX table tops, massive dirt inclines, and parking lots with homemade ramps. It was here that I uncovered a few small issues. First, as with most stadium trucks the motor sits at the very back of the vehicle, sticking out slightly farther than the rear tires. There isn't really a bumper on the Firestorm Flux, just a plastic motor guard to keep the motor can from getting scratched. While the plastic guard did an okay job of protecting the motor, landing above 45 degrees nose high meant the first part of the vehicle to hit the ground was that guard and the motor itself. After just a few small jumps on concrete landing nose high, the motor had come loose from the motor mount and the spur gear was completely shredded. If you're going to do some serious bashing, just make sure your gear mesh is set right, the motor mount screws are plenty tight, and have a little blue thread locker on them. This was my only actual complaint about the vehicle. I didn't seem to have this problem in the dirt until I started seeing 10-15+ ft. of airtime combined with some seriously ugly landings. Not exactly a fair test, in my opinion. The only other issue I did see during my bash sessions was what I observed earlier, and that was the ball cups on the turnbuckles popping off the studs. This happened much more often when bashing the Firestorm Flux. While the was a bit frustrating at times, I think it is actually a pretty good piece of engineering. Those turnbuckles come loose on really ugly hits. By popping loose, I think they absorb some of impact and keep other parts from getting seriously damaged. That's a good thing in my book, as they are a simple fix without any tools other than your fingers. Did I mention this thing was fast? Yeah. Plenty of speed for your bashing and speed pass needs.
Conclusion:
The *UPDATED* HPI e-Firestorm Flux got all the right updates. This thing has tons of customizable power, a 2.4GHz radio system, and the Big Squid favorite waterproof electronics! Driven within the means it was made for, the Firestorm Flux is fast but controllable, level jumping, and quite durable. While not the uber basher the HPI Blitz or Savage Flux is, it is still capable of quite a bit of punishment, and will turn heads with 50+ MPH passes the stock Blitz only dreams about. I wish there was some way of keeping the initial impact on nose high jumps off the motor (like a sometimes much needed wheelie bar/bumper combo). In reality, these criticisms are just little nit picky things as the Firestorm Flux performed as advertised. The waterproof electronics were awesome, the power was crazy, and the handling was great. As always, if you see us at your local bash spot or track make sure you stop and say hey. Grab some stickers, and maybe take something for a spin!
Scores:
Time to Bash: 8.0 out of 10 – Charge the included battery and go, as long as your radio is bound and your servo is centered.
Work-A-Bility: 9 out of 10 – Everything is pretty easy to get to. If you know you way around a Blitz, you know your way around this.
Car Show Rating: 9 out of 10 – The orange/black/silver/white color scheme is awesome in my book, and the styling of the body and rims looks great.
Bash-A-Bility: 7.0 out of 10 – Watch the motor impact on nose high landings. This is my #1 complaint. Those ball cups pop off and on easy, but may save more than they actually hurt. Ground clearance is an issue, but it's a stadium truck after all.
Big Squid Rating: 8.0 out of 10 – Fast, controllable, durable, and a blast to drive. You can easily tear up the parking lot, track, or the park. On 3S, be prepared to hang on tight and the feeling you get from ripping through puddles is just awesome 🙂