Hpi's all-new Formula Ten!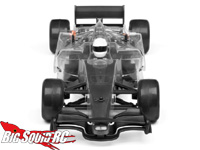 Available in kit for with a clear body, HPI has unleashed their impressive Formula Ten! With it's realistic front and rear wings along with all of the fantastic shapes and curves of the real cars this pan car is sure to TQ it's share of F1 races. Included are aluminum rear hubsand a strong steel axle, this kit weighs in at an incredible 1050g and uses standard size electronics.
Stop by HPI and take a look!