HUDY Chem Series P.O.Ls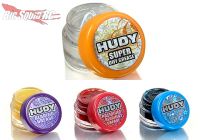 HUDY has a new collection of POLs for heavy duty applications.  Their silicone-based Super Differential Grease is made for high-performance and heavy-duty ball differentials and thrust bearings.  They say that it will stand up to high temperatures and will improve diff reliability.  They are also offering standard, extra, and premium bearing  greases that  are synthetic based with various additives that make them water resistant and fling resistant. HUDY also has a bunch of new bearing oils for one-ways and normal bearings.
There's actually a lot of new stuff from them and rather than line it all up here I'll just point you to HUDY's web site for all the details.