HUDY Star-Box – starter box for 1/8 scale nitro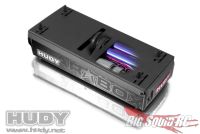 Hawkers of high-end hardware, HUDY, have put forth for your consumption a brand new starter box for 1/8 scale nitro vehicles.  The HUDY Star-Box is a professional grade starter box that features a compact and lightweight design.  The starter wheel is spun up by a strong 775 size motor and it can suck electrons from two 7.2v NiMHs and it is also LiPo ready if you've moved into the future already.
No price is given, but being HUDY, it's probably a somewhat pricey item.  Check out the HUDY web site for more info.