I-Hobby 2009 Booth Model Search!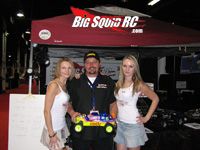 As we start to get all of our ducks in a row here, and gear up for the 2009 iHobby Expo where we are once again the main track sponsor, we are in need of some lovely ladies to help pass out flyers, talk to the attendee's and explain what Big Squid RC is all about.
It's a very busy show, and between getting footage/pictures and news for the site, wrenching on vehicles for the track demos, and eating over boiled hot dogs, we need help!
If you or someone you know may be interested, drop me an email. brian -at- bigsquidrc (dot)com. Last years models did an amazing job, but with a bigger booth this year, we could use at least 1 or two more. This is a paying gig. The show dates we need the help on are October 22,23,24 and 25! More details will be provided via email.
You must be 18 or older to apply, have a great attitude, be very outgoing, and smile a lot! If you think you'd do a good job filling out a BSRC shirt, and want to make a little extra cash, let me know.