iHobby Expo 2008 – Part 1 of Many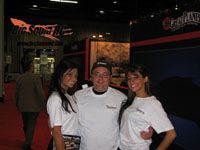 As Cubby mentioned earlier, iHobby Expo 2008 is coming up! This is the first year that Big Squid RC will have a booth at the show, so we decided to go BIG! How Big? We are the demo track sponsor! How nuts is that?! We called up a few pro drivers to put up some big air during our demo times and it's going to be a blast!
There will be FREE Big Squid RC stickers at our booth (while supplies last), so everyone make sure you pick some up! If you have been wanting to send in a Fan Picture for the Big Squid RC Contest, but never had any stickers, NOW is your chance!
Also, make sure to keep your browser dialed to BigSquidRC.com all week long because we will be bringing you EXCLUSIVE iHobby news and pictures starting Thursday!
If you are going to be out at the show, PLEASE stop by the booth and say hello, we love to hear from all of our readers!