iHobby Expo – Pictures Part 8
For those of you who haven't made it out to the International iHobby Expo this weekend, Sunday is the last day! Today was the first day it was open to the public, and the crowds were insane! The place was crazy, and with our demo's happening throughout the day, it was tough to grab pictures, so I'm just posting a few this time around, with a little more write up.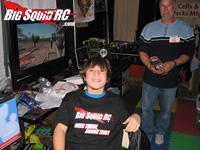 First up is a great shot of Ben with our 'live camera' attachment.. on his head! I'm pretty sure he knew it was there. Ben and his father were invited out today to do a little guest bashing with us on our race track. Ben was one of the winners at the Bash-A-Palooza event we did this summer, and has been a good friend of Big Squid RC's for a while now. He is going to be a great basher when he grows up! Thanks for breaking stuff with us!
During our bash sessions we toss a few t-shirts out into the crowd, and afterwords spotted a few of them walking around and invited them back to the booth for pictures.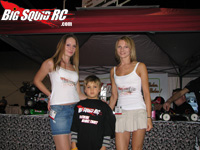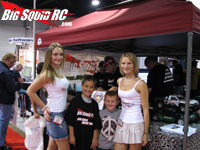 One kid was happy about the shirt, but looked a little scared of the girls, while he dad was like.. come on smile!! The other two kids looked like they knew what was up! 🙂 Congrats to all the people we gave shirts to! More coming Sunday. Yes, those are your favorite Big Squid girls that we had last year as well. Anna and Ewa! Thanks for all the help ladies!
Geno and Bill really did an awesome job this morning helping set up the booth! By the time I got in through all the traffic, they had most of the booth dialed and ready to go! Thanks so much for your help guys!
Our demos have been going very well. Just like last year, we had the crowds pumped! 100's of people were yelling and screaming, and we were told it could be heard throughout most the show floor! Thanks to all of our fans that have been coming out to support us! You guys rock!
Looking for more iHobby news? Here is the link for all of our iHobby Expo 2009 coverage! This link will get you all the 2009 updates as we post them! So keep an eye on it.