iHobby Invasion Pictures – Part 1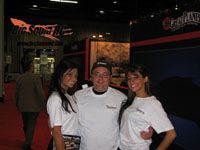 Lets start to get some pictures posted shall we? As you can see, it's very hard work at these big events. All the pictures, all the news, everyone asking for my autograph and to have their picture taken with me. Here's a shot of me with two lucky Big Squid RC fans.
This is part one of many. The pictures are pretty much at random. Eventually there will be sorted pages, such as 'all 18th scales'.
Click here to see a ton more!