iHobby Invasion Pictures – Part 2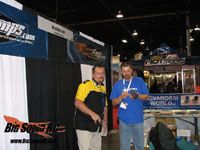 Pro-Driver and good friend of Big Squid RC, Tim "Hollywood" Mohr smiles for the camera in the Max Amps booth. There was a ton of cool new stuff at the show. MCD, Vantage, Axial, and Schumacher all had awesome stuff to show off! Make sure to hit the jump at the bottom to see the full set of pictures for part 2.
Click here to see a ton more!