If you do a quick Google search for "FPV racing drone", you will almost certainly be instantly overwhelmed with potential choices. As FPV racing and drones in general explode in popularity, there are new products hitting the market every second. When I set out to build my first high-end FPV racing/freestyle quadcopter, and I mean REALLY build it from the ground up, I began by researching the topic for nearly a year before pulling the trigger on any gear. 1 year might as well be 10 when speaking in terms of quadcopter technology and the rate at which it advances. Long story short, in the year that passed, a lot of established design philosophy had changed. You've all heard me speak about the current popularity of the X-Frames and its safe to say that it really got going with the release of the 5″ Alien frame from Australian company Impulse RC. Having won multiple titles (read: ALL OF THEM) at last year's Drone Nationals, I knew this frame was going to be a blast to fly.
This frame stands out for a host of other reasons as well. Chief among them: Support from the manufacturer. Impulse RC offers a comprehensive series of build videos for their products, resulting in an unparalleled assembly experience. I cannot stress enough how much these guys stand behind their products. Wanting to make sure I assembled and set up the frame based on their recommendations for this review, we corresponded quite a bit. They were always quick to answer my inquiries via email and provide me with any and all support I needed when diving into the build. It's been an incomparable customer service experience. Other standout features of the frame itself include the meticulously-thought-out geometry and weight distribution as well as the proven strength of the platform.
I want to make it clear as we dive into this review that the Alien is a frame and all of the components I selected to complete the build are those recommended by Impulse RC. As I said above, the build videos are thorough, as is the documentation provided by the manufacturer detailing recommended running gear, set up, and general tips. There is a huge community in place as well. One example of that is the RCGroups.com thread started by the Alien's creator and all the community contribution there.
Check out my overview of the Alien right here for some more features, but right now; let's dive in to see if this frame can stand up to a Big Squid beatdown!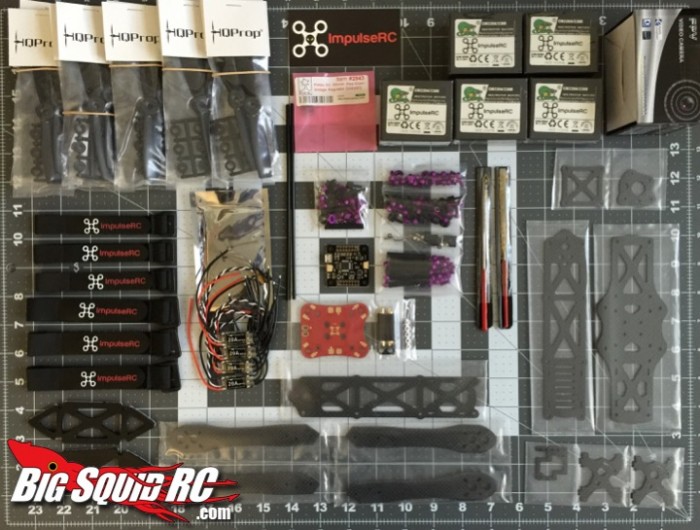 Review by: Joe "RedPandaFPV"
Photography/Videography by: KrazyFPV, Giovanna P., ImpulseRC, Chad Nowak, Steele Davis and Joe
ImpulseRC Website: ImpulseRC
Kit Includes:
Main Plate – 2mm
(4x) Arms – 4.0mm
Top Plate – 1.5mm
(2x) K-Mounts – 1.5mm
Camera Plate – 1.5mm
Alien – 1.5mm
FC Cover Plate / VTX mount – 1.5mm
4oz Copper 2mm PDB
 7075-T6 Aluminium Hardware
All necessary standoffs, washers, spacers, etc.
Specs/Additional Gear Used:
Transmitter: FrSky Taranis X9D Plus, 2.4ghz
Flight Battery: 4S 1300mAh 60C Lumenier LX batteries w/XT60 connector.
FPV Goggles: Fat Shark Predator V2
Video Transmitter: Fat Shark 250mW 5.8ghz
Antennas: ImmersionRC RHCP SpiroNet
Props: HQ Props 5×4.5 Bullnose (5045 BN)
Flight Camera: HS1177
ESCs: FVT Littlebee 20A BLHeli
Motors: Cobra Motor 2204/2300kv
Flight Controller: MotoLab Cyclone F3
Size: 225mm (Motor-to-Motor)
Price: $129.00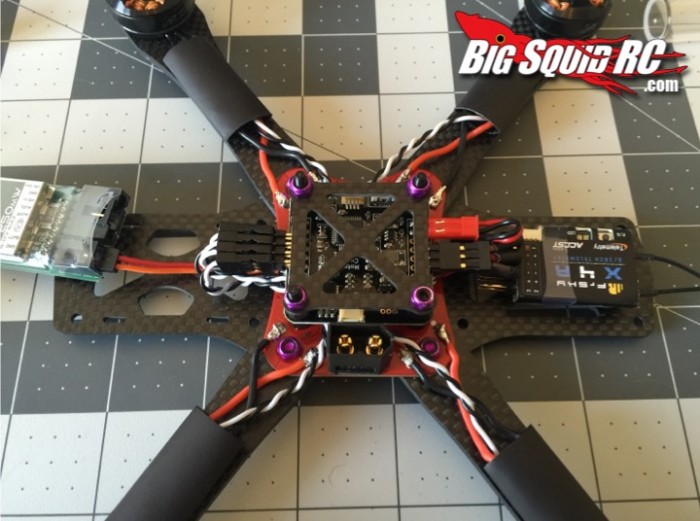 Competition: At the time of the Alien's initial launch, X-Frames where nowhere near as prevalent as they are now. That has changed seemingly overnight. Now you have many similar designs such as the XHover Element, Lumenier RaceBlade, Armattan F1, Catalyst Machine Works Speed Addict 210 and the ShenDrones Krieger, just to name a few.
Needed to complete: See the above the list. The Alien is a kit in its purest form and all necessary running gear is required. If I haven't made myself clear yet, building this; or any other purpose-built, FPV racing quad, is a process. A fun, rewarding, and extremely educational process that, in my opinion, is half the fun of owning these things. With that in mind, I want to reiterate again how awesome Impulse RC has made the build process. They thought of everything with regard to the set up and configuration of their baby. You can follow the build guides to the letter and be rewarded with a high performance flying machine, or you can use the frame as a blank canvas and build yourself a purpose build quadcopter that is one of a kind. The choice is yours.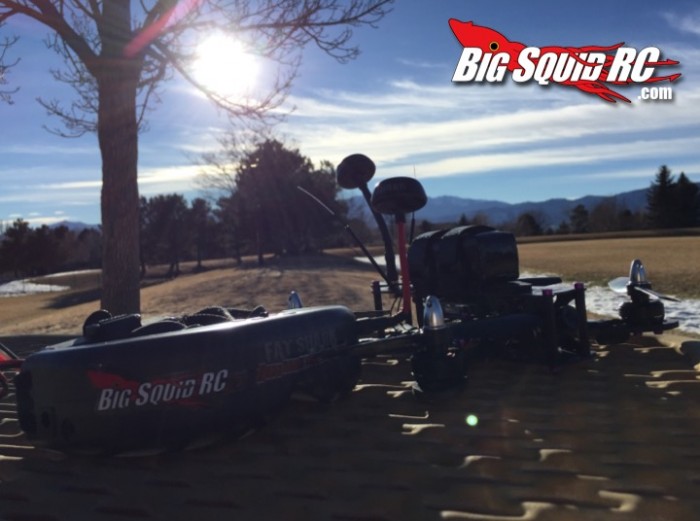 Setup notes: My flight controller is running BetaFlight 2.3.5 with the optional AirMode enabled. There are many available guides (and even more opinions) available on how to tune a mini quad, so I will spare you each and every detail here. Configuration was all done through the CleanFlight Configurator which can be downloaded for Google Chrome right here. I didn't run into any driver issues or other software gremlins when setting up the Cyclone. The frame itself went together precisely and easily as well, with plenty of evidence that shows the level of manufacturing quality present here. All of the hardware was machined perfectly and each screw and nut went in smooth and snug. The finish on the carbon fiber was excellent and, though you can go crazy with filing the edges of your frame if you really want to, no additional finishing was required.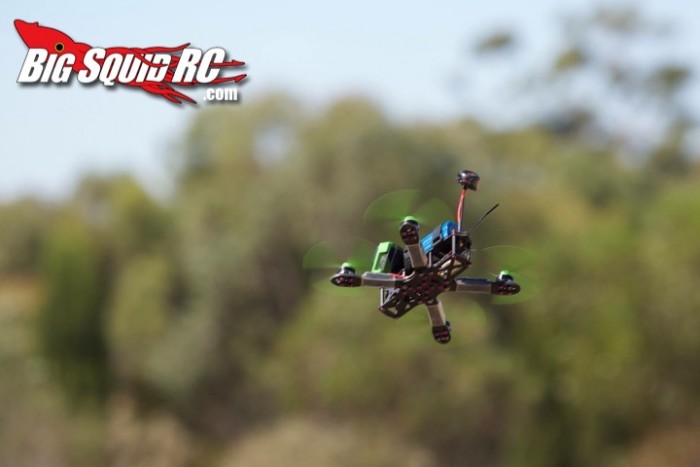 Flying: Quite simply, the Alien flies like a dream. Considering that this is a review for a frame and not all of the components necessary for FPV flight, lets focus on toughness and geometry. Tuning, running gear and set up aside, flight characteristics with a mini quad come down to weight distribution and geometry. With regard to the geometry of the frame, you can tell that the boys at ImpulseRC know their stuff. In the RC Groups thread mentioned above, the designer of the Alien talks in depth about the thought that went into the frame including the pythagorean math involved. Everything from the distance between the motors, to the height of the battery plate and everything in between was considered. Bottom line, if tuned correctly, the Alien flies like no other. The term "on rails" comes to mind. After a few battery packs, you begin to feel as if the Alien has a direct feed into your neural pathways. It responds precisely to your control inputs and does exactly what you tell it to do. This frame is pretty much the pinnacle of mini quad engineering
Durability: Is there a grade higher than an A++? Because the Alien gets it. The arms are 4mm carbon fiber, and the plates 2mm. I flew at wide open throttle into trees, the pavement and the side of my house. I cut the motors and let it fall from upwards of 200+ feet with a heavy GoPro attached. I literally grabbed the frame and slammed it into the sidewalk as hard as I could. Nothing broke. Let me repeat that…. NOTHING BROKE. Aside from a few broken props, a failed video transmitter (thanks to my poor soldering) and the adjustable camera mount slipping, nothing broke. This is by far the most durable frame I've ever had the pleasure of testing. The build guides on the Impulse RC YouTube channel detail specifically how to torque down each bolt when assembling to obtain maximum durability. As noted above, when you follow the designers intentions, the frame is bomb proof. I will be doing a follow up review of this frame after a few months of flying and I can tell you right now, I will have to try HARD to break this thing. Verdict = durable.
Summary:A = Outstanding/Best in Class, B = Above Average, C = Average, D = Below Average, F = Horrific
Time To Bash: C As with any custom rig, building is half the fun. From the time you open the package until your flying will depend entirely on how much time you wish to dedicate to set up. This is certainly no ready to fly ship.
Workability: A The design philosophy of the Alien focuses on flight geometry, durability and workability. Simply remove 9 screws in the top plate to access your full suite of electronics. Working on this frame is a pleasure.
Car Show Rating: A Visually, the Alien is a stunner. With a plethora of "flying bricks" out there, the Alien definitely stands out as a well designed machine. Sure, it still looks to be a top and bottom plate design, but look closer and you'll find an elegant and sexy machine.
Bash-A-Bility: A+ Thats right. A+. The Alien took the most rugged beat down I could dish out and kept coming back for more. Ive been flying this rig for months now and the only damage visible is a few nicks on the ends of the arms.
Fun Factor: A This quad is a blast to fly. Once you've gotten it tuned and gotten used to how aggressively it flies, you won't want to fly anything else.
Handling: A The geometry of the frame means it handles like an F1 car on steroids. This frame is the Bugatti Veyron of mini quads.
Value: C The frame is on the expensive side, that is to be sure. But you are paying for top notch carbon fiber, hardware and support from an awesome company.
Parts Availability: C Right now, Impulse RC parts are only available direct from ImpulseRC.com. The good news is, they ship incredibly fast and have ample stock. You won't find this stuff in your LHS unfortunately.
BigSquid Rating: A If you want the best of the best, have some soldering skills and basic background in RC flight, this is the frame for you. Nothing flies quite like an Alien.
Want more FPV news from Big Squid? Click here!