Interesting look at R/C car design process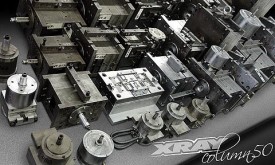 If you've ever been curious about the design and manufacturing process of r/c cars, XRAY's latest column covers that exact topic. XRAY's chief designer, Juraj Hudy, gives a behind the scenes look at the design process, prototyping, mold making and other aspects of the RX8, XRAY's latest 1/8 scale nitro onroad racer.
After several months spent behind the computer and after I was convinced that we had fixed all the basic details, it was time for the first prototypes. To make prototypes today is completely different compared to the old days. Now all composite parts are "printed" using a special sand printer technology which creates the sample in few hours from a file we send via e-mail. These are fairly fragile but give an excellent idea how the composite part will look like. All the aluminum, steel and graphite prototypes are very easy to produce as well, thanks to the in-house production technologies linked to the network.
It's a very interesting article with a bunch of cool photos to go along with it. Go give it a read.