the International R/C Speed Challenge, Presented by Castle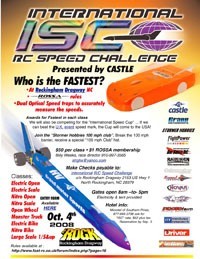 Aww Yea! If there is one thing that will always bring new people to the world of RC, it's speed! Think you have the fastest RC vehicle on the planet? Time to prove it! October 4th at the Rockingham Dragway in NC! You can get all the details you need here: International R/C Speed Challenge, along with a forum to talk about it: Here!
Big Squid RC is a sponsor this year, and we will be handing out some cash money for the winners, with a twist! To get the cash, your vehicle has to have a Big Squid RC sticker on it! Easy right? Check the forum for more details!