Interview with Matt Wallace of Pro-Line (Updated)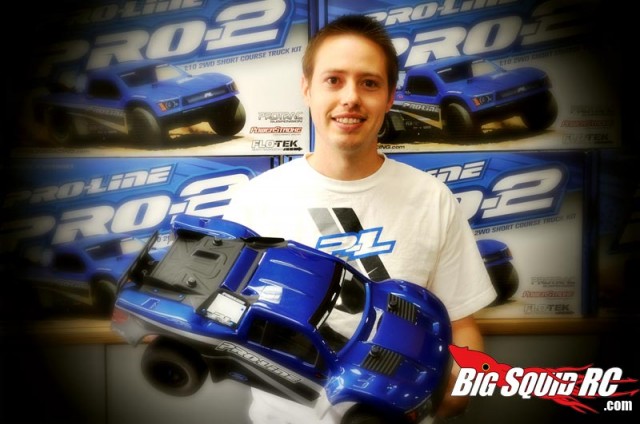 Our surprise Unboxing of the Pro-Line Pro-2 Truck was received extremely well, and had tons of email and comments pouring in, asking questions as well as giving praise for Pro-Line's first jump into the full on vehicle kit world.
The overwhelming enthusiasm towards the release seemed to warrant a follow up, so we contacted our friend Matt Wallace at Pro-Line for a short interview where we could ask some questions that we had, as well as get some answers for questions our readers were asking. Check it out…
Update: Looks like we missed a few questions during editing.. they have now all been added back in.
Big Squid RC: The PRO-2 kit is obviously a labor of love on your part, give us an idea how many hours you have in the project.
MW: I have truly loved working on this project and expanding Pro-Line's product lineup into new categories. But the foundation for this project was really laid by Tim Clark (Head of Product Development) many years ago with the development of the ProTrac Kit. This truly innovative suspension kit converted the short arm SC trucks with big offset wheels to long arms and race-inspired suspension geometry that has become the standard for all the new SC trucks that have hit the market since. My first contribution to this project came a little over 3 years ago with the Performance Steering Kit (my first project at Pro-Line) and I have been working on developing all the parts needed to make a full kit ever since; well, in-between all the other projects we work on here at Pro-Line like Tires, Wheels, Bodies, etc… So, let's just say a TON of hours!
Big Squid RC: What single part on the PRO-2 are you particularly proud of?
MW: My first thought was to say the PRO-2 Chassis because I love all the details in the aluminum chassis and how the side bumpers look like Jet Fighter wings, but in reality it has to be the Transmission. The Transmission is always the heart of any vehicle and it was a huge leap forward for us as a company to design and develop something like a full Transmission. Before that, the most complicated thing we made was Shocks.
Big Squid RC: When was the last time you went bashing out in a parking lot?
MW: Just this last week! We had to "test" our new Rock Rage tires (along with some secret future goodness) for "work" with a smile on our face the whole time.
Big Squid RC: Does this mean we can expect more vehicles from Pro-Line in the future?
MW: I am sure this release will educate us further about our possible opportunities in the kit market. But just like the Pro-2, we would not start another kit project unless we see the opportunity to offer the customer a unique experience.
(Press READ MORE for the rest of the interview)

Big Squid RC: A great feature of the kit is that a lot of stuff is already pre-built! For newbies looking to build their own vehicle, this is an ideal place to start. Was this on purpose? For example, the transmission is not only built, but attached, so you guys are doing a little extra work on your end.
MW: Yes, this was definitely on purpose. We are positioning our kit to be accessible for the guys who are ready to take the next step up from all the Ready to Run Kits available. Right now, there is no other place for these guys to go besides getting another Ready to Run or a full blown Race Kit. We are excited to bring the next level of Durable, Proven, Performance to this customer!
Big Squid RC: We have touched on the possibility of another kit from Pro-Line, what about a whole original vehicle? Maybe a kit to go with all those scale cralwer bodies, tires, and accessories?
MW: I am sure this release will educate us further about our possible opportunities in the kit market. But just like the Pro-2, we would not start another kit project unless we see the opportunity to offer the customer a unique experience. So, in a nutshell, anything is possible.
Big Squid RC: The Pro-2 is the first full chassis kit from Pro-Line. We started seeing individual parts last year, was this always the plan for a full kit?
MW:Pro-Line is very content being a manufacturer of World Class Accessories. Our primary goal is to provide the consumer limitless options to enhance the performance of their vehicle. In the case of the Pro-2, we found ourselves with a near complete kit as a direct result of our enthusiasm for short course truck accessories. It was at this point, and after many requests from our customers, that we chose to go ahead and complete the final components needed to box a complete Pro-Line Pro-2 kit.
Big Squid RC: Is the truck going to be available in hobby shops? Just Online?
MW: The Pro-Line PRO-2 will be available through all supply channels that our current
products can be found.
Big Squid RC: Do you see the Pro-2 as more of a race truck or bash vehicle?
MW: Our actual focus for the Pro-Line Pro-2 was to meet the following criteria: Durable. Proven. Performance. These targets helped the Innovation team design a SC truck that will impress the driver both on and off the track in a way the others cannot. To explain, the Pro-2 is built from components designed to improve durability and function of the current SC trucks on the market. As opposed to a ground up design, these products are proven. The Pro-2 has already shown that it has on track competitiveness in the hands of Pro-Lines race team at events across the country and I know that Big Squid has put the truck through more than one Bash session and it came out still functioning on the other end, which says a lot!
Big Squid RC: Will there be aftermarket parts for the Pro-2 like other kits that are out there?
MW: The Pro-2 can't really be compared to that are out there right now. It already has all the best stuff in one box, so you do not need to go buy performance tires, body, shocks and things like that with this kit. However, I am sure we will consider next generation components and will make those available. We want to keep the truck exciting and fresh for the customers.
Big Squid RC: Ever sit in your office on a Monday morning hitting refresh waiting for THE Cub Report? 🙂
MW: How did you know?? Every Monday all of us here at Pro-Line can't wait to read what Cubby is going to get all riled up about! I think it's good for the industry as a whole to have somebody with a big platform speaking their mind, standing up for the Bashers and telling us (the manufacturers) what we are doing right and wrong. Besides, this industry is supposed to be about having fun and we shouldn't be taking ourselves so seriously to begin with.
Big Squid RC: Pro-Line has always been known for bodies and tires. Does having a kit change the focus of who Pro-Line is? If you had to describe the Pro-Line company to someone today in a sentence, how would that go?
MW: Pro-Line's focus remains the same: To improve our customer's RC experience by providing truly innovative products that perform above expectations. The whole goal is capture our customers' hearts.
Big Squid RC: Historically, Pro-Line has focused more products towards the hardcore racer crowd. Now it seems you guys put out an even mix, plenty of goodies for racers and bashers. First off, thanks for doing more basher stuff, and secondly, why did PL decide to do more basher products?
MW: Racing is literally in our name and in our blood and I doubt that will ever change but the basher crowd does benefit from our racing heritage and experience. The same guys that develop the race stuff also develop the bash stuff, so everything we learn from pushing the envelope at the World Class level will make its way into all of the other stuff we produce. I don't think it was a conscious decision to "make more bash stuff", it just happened naturally because we knew we could make products that people want. Pro-Line is always Racing to Bring You The Best!
Big Squid RC: What advice would you give to a young person who wants to make a career in rc?
MW: My advice would be to stay in school, always have the right attitude, figure out what you love to do and do that as a career. There are many different types of jobs in the RC industry, so do what it takes from an education and experience standpoint to get the job you want and never give up. But please don't try to become another one of those paid "Pro-drivers" unless you like to spend years developing a skill that is only valuable to a select few companies, being on the road all the time and love having your next pay check depend on your race results…
Thanks again to Matt from Pro-Line for taking the time out of his busy day to chat with us and answer all of our questions. Watch for our review of the Pro-2 kit coming very soon, and don't forget to check out our Unboxing of the Pro-Line Pro-2 Truck if you haven't already.