Jake Dellinger Interview – RC Pro Series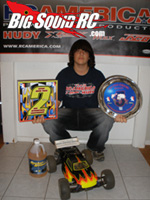 RC Pro Series Interview with 2008 Expert Buggy National Champion Jake Dellinger.
Jake also finished 2nd in the National Standings for Expert Arena Truck for 2008.
********************
RC Pro*: How old are you and how long have you been racing?
*Jake*: I am now 16 years old and I have been racing for about six years now
*RC Pro*: How did you get into rc?
*Jake*: When my dad bought me a Duratrax truck about six years ago and broke that many times then moved up o a Kyosho 1/8 buggy rtr and I have been racing ever since
*RC Pro*: Do you remember how you did in your 1st race?
*Jake*: Actually on the first day we got the buggy the local hobby shop told us there was going to be a race about a mile from the hobby shop so I entered and finished 2nd in 1/8 sportsman it was pretty cool since I had never even driven on a track

*RC Pro*: Yea that is pretty cool!
did your dad drive too or has he always just been the pit dad?
*Jake*: yea really cool for a ten year old kid
well since he owns a hobby shop now he usually gets to play with all of the new stuff that comes out but he does not race. At the track he is my pit man
*RC Pro*: That leads to the next question do you do most of the work on the cars or does he?
*Jake*: I actually do all of the work on the cars and he just has to pit me.
*RC Pro*: What track do you call your home track?
*Jake*: My home track is the River Race Track in Brazoria, Texas
*RC Pro*: I know you do a lot of big races in Texas can you fill us in on some of your more favorite?
*Jake*: my favorite races in Texas ?
*RC Pro*: In general
*Jake*: Well I like to attend all of the RC Pro races in the southern division, all of the RC Pro Texas State series races, The Ice Breaker, a lot of the HARC (Houston Area R/C) club races. And would like to make it to some of the other national events soon
*RC Pro*: I know last year was kind of confusing for a lot of the guys in the Expert/Pro classes due to the split at the Finals. Were you aware you had a chance at the Expert Buggy Championship going into the Finals?
*Jake*: Yes I was aware that I had a chance because the people that were signed up for the finals I was already used to racing against and knew that I could hang in there with them
*RC Pro*: I know your dad seemed to be ready for it at the awards lunch.
*Jake*: Yea I think he was. we were both very excited on my first big national event win
*RC Pro*: You mentioned the state series how have you done in that this year?
*Jake*: Well we just had the first round a couple of weeks ago and I finished 2nd in 1/8 buggy
*RC Pro*: I see that was a 2nd to Branham and ahead of a number of the Pro guys! are you ready to move into the Pro Classes this year in the division races?
*Jake*: I now think that I am ready for the Pro classes this year and will be running in the Pro class at all of the RC Pro events this year and at other events I attend
*RC Pro*: I think you will do fine.
Who are your sponsors now?
*Jake*: My current sponsors are Team RC America, Xray, Hudy, Victory R/C (Dad), Rocket Science Fuels, and Paint By Smiley.
*RC Pro*: Have you found a barber sponsor yet?
LOL
*Jake*: No I cant seem to find one
*RC Pro*: You knew I would bring that up!
*Jake*: Yea kind of figured you would. I guess its to long?
*RC Pro*: It just gives me something to pick at you about!
*Jake*: Its all good everyone talks about it. They must like it?
LOL
*RC Pro*: LOL
How does being part of the RC America Team help at the races from when you weren't sponsored?
*Jake*: Being a part of the team is cool because if you have a question about what this or that does. there is always someone on the team you can ask
*RC Pro*: What is the 1st thing you do when you get to a track you haven't ran on before like the Finals track?
*Jake*: The first thing I do is go to the pit with every tire that I think may work on that surface, then keep changing tires until I get the best one and make whatever changes to the car is needed then I just run a bunch of laps until I am comfortable with the track
*RC Pro*: I assume you start off with a standard setup?
*Jake*: Yes I do. and if I need the car to do something it is not doing then I go into different setups
*RC Pro*: You also run the Arena Truck class. Does the extra track time help a lot?
*Jake*: Yes it does help with many things such as you get to experience the track at two different times of the racing day instead of one, which will let you know what is all changing on the track, like the different lines you will have to take later in your other heats
*RC Pro*: Does the difference between the 2 classes cause problems at times?
*Jake*: It can if you have not spent enough time with both vehicles. because if you don't it may be hard to switch in between the two trying to drive one like the other. which wont work because they are 2 totally different cars
*RC Pro*: Do you have anyone in rc you look up to or try to pattern yourself after?
*Jake*: Yes I look up to a lot of the pros like Branham, Lutz, Maifield, Truhe,and many others. Maybe one day I will be as fast as they are?
*RC Pro*: Well at 16 now you have plenty of time.
*Jake*: Yes I do
*RC Pro*: A lot of racers that are still in school have trouble getting to too many races is your school cool with you taking off for races?
*Jake*: Yes they are cool with it but when I leave they give me enough work to last for the rest of the year.
*RC Pro*: LOL
*Jake*: Thats not funny!
*RC Pro*: I assume if your grades weren't too good they would frown on you taking off?
*Jake*: Yes they would but my grades stay pretty high
*RC Pro*: Racing is a good incentive then?
*Jake*: Yes it is
*RC Pro*: I'll have to do some checking but you could be the youngest RC Pro National Champion so far.
*Jake*: That would be cool
/*Note: No he isn't there has been 2 younger. Sorry Jake.*/
*RC Pro*: This is where I give you some space to thank anyone you want to thank.
*Jake*: I would like to thank all of my sponsors. Team RC America, Xray, Hudy, Victory R/C (My Dad), Rocket Science Fuels, Paint By Smiley. and you Carlton for putting together R/C Pro Series, and some awesome racing.
*RC Pro*: Jake thanks for doing this interview and congratulations on your Championship!
I'll see you in a few weeks at the State series race in Garland.
*Jake*: You are welcome. And thank you. I will see you there