JConcepts Short Course vehicle stand / parts container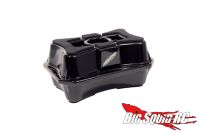 Need a place to set your short course truck? How about a place to put all your parts and tools? JConcepts got ya covered. Their new Short Course truck stand does all of that while looking smooth and staying compact. Of course it's not just limited to holding up short course trucks, it'll hold other kinds of trucks too, and maybe even cars as well. The stand is made out of durable polycarbonate and comes clear, allowing you to satiate all your customizing desires. It also comes with a decal sheet and foam padding for the top and bottom. If you've been needing a way to keep your work area clean and organized, well now you have no excuses. MSRP is $25.
Get more of the info you want from the JConcepts web site.